Roger Stone says he's suing organizers of cannabis forum for dropping him as keynote speaker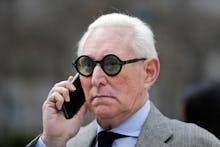 After organizers of a cannabis industry conference dropped outspoken Trump adviser Roger Stone from its speaker lineup, Stone says he plans to sue for $1 million.
Stone had been scheduled to speak at two upcoming Cannabis World Congress and Business Expo events in Los Angeles and Boston, according to a statement from the CWCBExpo. However, citing the need to provide a "united and welcoming environment" at the events, the organizers announced on Wednesday that he would no longer speak at either CWCBExpo.
Stone, a political consultant who was a campaign advisor to President Donald Trump, has a history of making racist, Islamophobic and misogynistic comments.
During the 2016 presidential election, Stone was banned from appearing on CNN after since-deleted tweets surfaced in which he had called former CNN analyst Roland Martin a "stupid negro." He also launched a series of Twitter attacks at CNN commentator Ana Navarro, calling her "a moron," an "entitled diva bitch," mocking her weight and tweeting about her "killing herself."
He also tweeted "DIE BITCH" at former New York Times executive editor Jill Abramson in 2014, and in 2011 he referred to Congresswoman Maxine Waters as a "self dealing crook, professional negro and communist or just a dumb bitch" — both tweets that have since been deleted.
After Muslim American Gold Star father Khizr Khan spoke at the 2016 Democratic National Convention, Stone tweeted out a link to a fringe website and alleged that Khan was a "Muslim Brotherhood agent helping Hillary."
Stone, a vocal proponent of legalized marijuana, had already spoken at a CWCBExpo event in New York City in June. However plans to include him in two upcoming events prompted threats of a boycott.
In August, Politico reported that four planned speakers at the upcoming expos and one sponsor had threatened to boycott if Stone delivered keynote addressed as planned.
In a Facebook post in August, the Minority Cannabis Business Association announced, "As a result of CWC choosing this guy [Roger Stone] as their keynote speaker, MCBA has decided to withdraw from attendance and speaking roles at this conference. CWC, you know better so there's no excuse not to do better."
In the Wednesday statement announcing that Stone would no longer be featured at the CWCBExpo events, the organizers wrote that "the forums created by CWCBExpo are crucial to the growth and legalization of the cannabis industry and they supersede the distractions that have surrounded the events."
Stone told BuzzFeed on Wednesday that he was planning to sue CWCBExpo organizers for $1 million and reportedly wrote, "Hope they are well-heeled. See their sorry asses in court ... I will not be deterred from my efforts to persuade the president to preserve access to legal medicinal marijuana consistent with his pledge to the American people."
He also reportedly told BuzzFeed that his "many supporters" would be in attendance at the upcoming CWCBExpo event and "will fuck them up."
Roger Stone did not immediately respond to Mic's request for comment.