Trump Jr.'s Senate testimony contradicts original justification for 2016 Russia meeting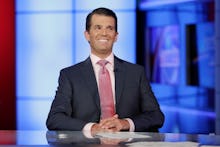 Donald Trump Jr. told Senate investigators Thursday morning that he took a meeting with a Kremlin-connected lawyer to assess Hillary Clinton's "fitness" for office — directly contradicting his original statement claiming the 2016 rendezvous focused on "a program about the adoption of Russian children."
"To the extent they had information concerning the fitness, character or qualifications of a presidential candidate, I believed that I should at least hear them out," Trump Jr. said in a statement obtained by the New York Times. "Depending on what, if any, information they had, I could then consult with counsel to make an informed decision as to whether to give it further consideration."
Trump Jr. claimed in the statement — as he has before — that the meeting "provided no meaningful information."
But in admitting that he was after information about Clinton, his father's Democratic opponent, he contradicted the initial statement he released after the meeting first came to light in July — a statement crafted by President Donald Trump.
"It was a short introductory meeting," Trump Jr. said in the statement. "We primarily discussed a program about the adoption of Russian children that was active and popular with American families years ago and was since ended by the Russian government, but it was not a campaign issue at the time and there was no follow up."
That statement was quickly shown to be misleading after it was reported that Trump Jr. had met with Russian attorney Natalia Veselnitskaya after being told by a music publicist that she had damaging information about Clinton that had been collected by the Russian government — something emails released by Trump Jr. seemed to confirm.
Rob Goldstone, the music publicist, promised Trump Jr. "very high level and sensitive information but is part of Russia and its government's support for Mr. Trump."
"If it's what you say I love it," Trump Jr. replied.
In his statement before the Senate Judiciary Committee on Thursday, Trump Jr. claimed that the phrase was "simply a colloquial way of saying that I appreciated Rob's gesture."
The meeting — which was also attended by senior adviser Jared Kushner and then-campaign chairman Paul Manafort — has been a significant focus of the investigations into the Trump campaign's ties to Russia.
Trump Jr.'s private interview with the Judiciary Committee makes him the second member of the president's family — after Kushner, the president's son-in-law — to appear before Senate investigators.