Sexual assault survivor groups and advocates pan Betsy DeVos' plan for Title IX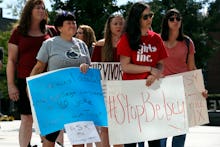 Sexual assault survivor groups and advocates are livid after Education Secretary Betsy DeVos announced on Thursday that her department is rolling back Title IX sexual assault guidelines issued by former President Barack Obama in 2011 — without saying what the Trump administration would replace them with.
Survivors and their supporters said DeVos' speech sent the wrong message to survivors of campus sexual assault and conflated the number of wrongfully accused with the number of victims.
"This conversation has too often been framed as a contest between men and women or the rights of sexual misconduct survivors and the due process rights of accused students," DeVos said in her address. "The reality is, however, a different picture. There are men and women, boys and girls who are survivors, and there are men and women, boys and girls who are wrongfully accused."
Jess Davidson, managing director of the sexual assault advocacy group End Rape on Campus, said in an interview with Mic that comparing the two groups perpetuates a troubling myth about false reports.
"She consistently has created this false equivalence between the problem that survivors face and that [the] accused face," Davidson said.
Davidson pointed out that false reports only comprise between 2% and 10% of sexual assault reports, according to data from the National Sexual Violence Resource Center. At the same time, one in five women are sexually assaulted while in college, and 90% of campus assault victims never report their attack.
"To schools, they're saying, 'Don't worry, we will no longer be holding you accountable, the pressure is off,'" Michele Dauber, a Stanford University law professor who is leading an effort to recall the judge in the Brock Turner rape case, said in an interview. "And to victims, the Trump administration is saying, 'You are on your own, the government is no longer your ally, the government is no longer going to protect you, so just go back to not telling anyone.'"
Davidson pointed out that DeVos sounded like she wasn't even familiar with the Obama-era guidelines, which set clear standards for how colleges and universities should investigate campus sexual assault and sexual harassment.
"Some of the problems she brought up were actually ... addressed by the 2011 'Dear Colleague' letter," Davidson said. "It seems to me like a fundamental lack of understanding either of Title IX or survivor experiences. Some advocates on Twitter were asking if she even read the letter."
In her speech, DeVos said current guidelines hurt both accusers and the accused and "burdened schools with increasingly elaborate and confusing" rules.
However, Catherine Lhamon — who helped carry out Title IX investigations while serving as assistant secretary for the Department of Education's Office of Civil Rights during the Obama administration — said that during her tenure, the department found schools at fault for failing to protect accusers and the accused.
"The only takeaway from this speech ... is that there will be more disagreement and lack of clarity about how to proceed," Lhamon said. "And it certainly is not in the job description for anyone in the federal government to sow confusion."
While sexual assault advocates said they were disappointed with DeVos' speech, some groups said they will pressure colleges and universities to continue adhering to the 2011 guidance, no matter what the Trump administration eventually recommends.
Alyssa Peterson, policy and advocacy coordinator with Know Your IX, which seeks to end sexual violence in schools, said her organization plans to help survivors and advocates make their voices heard in any comment period the Trump administration holds on sexual assault guidelines. Know Your IX will also lobby universities to make sure they do not allow sexual assault investigation standards to fall by the wayside.
"There are a lot of university presidents and administrators who, for the past few years, have talked a good game of standing with survivors," Peterson said. Know Your IX, she added, will pressure those same officials to stick with the 2011 guidance — or else make sure their "true allegiances are revealed."