Republicans join push to end partisan gerrymandering ahead of October Supreme Court case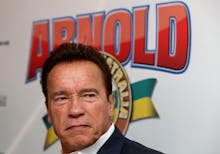 What do Arnold Schwarzenegger, John McCain and a whole bunch of Democrats have in common?
They're all calling on the Supreme Court to put a stop to gerrymandering — the shady, age-old process of drawing up districts in a politically favorable way.
In October, the nation's highest court will hear arguments in Gill v. Whitford, a case centered on the constitutionality of Wisconsin's Act 43, a state law that redrew the electoral district map in 2011 in a way a lower court concluded was illegally partisan.
Act 43 was "intended to burden the representational rights of Democratic voters throughout the decennial period by impeding their ability to translate their votes into legislative seats," Circuit Judge Kenneth Ripple wrote in a divided opinion. "Moreover, as demonstrated by the results of the 2012 and 2014 elections, among other evidence, we conclude that Act 43 has had its intended effect."
As the potential landmark case looms before the Supreme Court, a number of prominent Republicans — including Schwarzenegger, McCain and Ohio Gov. John Kasich — sided with their Democratic counterparts and filed briefs imploring justices to declare gerrymandering unconstitutional.
Here's what you need to know about the upcoming Supreme Court case — and what it could mean for elections going forward.
Gill v. Whitford heads to the Supreme Court
The Republican Party took control of Wisconsin's state government in 2010 and quickly enacted Act 43, redrawing the state's electoral map in a way some analysts concluded favored Republicans and gave them a big boost in the 2012 and 2014 elections.
In 2012, for example, Democrats won 51% of state assembly votes to Republicans' 47%, according to Isthmus. But, the publication reported, Democrats won just 39% of the assembly's seats to the Republicans' 61%.
Wisconsin Democrats' "efficiency gap" in the elections since Act 43 indicates the law "favored Republicans," Nicholas Stephanopoulos, an attorney in Gill v. Whitford and professor of law at the University of Chicago, wrote in Vox in July.
The "efficiency gap" is a tool Stephanopoulos used to measure gerrymandering by calculating how well votes for a given party translate into seats won. That tool, the New York Times reported in November 2016, could be a key factor in the Supreme Court's ruling against partisan gerrymandering when it hears the case Oct. 3.
"It does almost exactly what Justice [Anthony] Kennedy said he was looking for back in the '80s, a clear threshold for deciding what is acceptable," Barry C. Burden, the director of the Elections Research Center at the University of Wisconsin-Madison, told the Times.
Bill Whitford, the retired University of Wisconsin law professor and lead plaintiff in Gill v. Whitford, said at an event in March that the case could help address the "constitutional failure in the American system" of permitting lawmakers to choose their voters, not the other way around.
Stakes are high for Gill v. Whitford
This won't be the first time in 2017 the Supreme Court has examined gerrymandering: In May, the Supreme Court ruled that legislative maps in North Carolina were unconstitutional racial gerrymanders designed to weaken the votes of black residents.
But Gill v. Whitford could result in a landmark decision on the constitutionality of gerrymandering along partisan lines — something that, an Associated Press analysis found, significantly benefitted Republicans nationwide in 2016.
"Republicans won as many as 22 additional U.S. House seats over what would have been expected based on the average vote share in congressional districts across the country," the AP's David Lieb wrote. "The data suggest that even if Democrats had turned out in larger numbers, their chances of substantial legislative gains were limited by gerrymandering."
That gerrymandered Republican advantage wasn't confined to the 2016 election, the Washington Post warned in June: GOP-drawn maps could doom Democrats in the 2018 midterms, too.
"Democrats would need to flip 24 seats to retake the U.S. House in 2018," the Post's Christopher Ingraham wrote. "But at least two-thirds of that tally may be permanently out of reach, thanks to a dirty geographical trick played by Republican lawmakers in 2010."
The Republicans rooting for an end to gerrymandering say the issue goes beyond party politics and "[deepens] the crisis of confidence in our democracy," according to a brief filed by McCain and Sen. Sheldon Whitehouse (D-R.I.).
"From our vantage point, we see wasted votes and silenced voices," the senators' brief read. "We see hidden power. And we see a correctable problem."