Moderate Republicans announce exit from Congress in era of Trump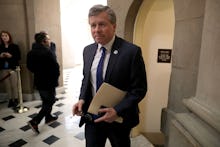 Moderate members of Congress are few and far between in today's increasingly polarized political climate.
And those moderate ranks are poised to shrink even further in the 2018 midterm elections, after three of the House Republican Caucus' most pragmatic members announced they won't seek re-election next November.
The three open seats the retiring members leave provide Democrats with prime opportunities to grow their ranks in the midterm elections, helping in Democrats' quest to chip away at the House GOP majority.
And with more than a year to go before the midterms, it's possible more of these members could announce their departure, making Republicans' already tall task of defending their majority even harder.
Reps. Charlie Dent (R-Pa.) and Dave Reichert (R-Wash.) both announced this week they won't seek re-election in 2018. Rep. Ileana Ros-Lehtinen (R-Fla.) announced her retirement in April.
Dent, who co-chairs the moderate Republican Tuesday Group, announced his retirement Thursday with a blistering statement denouncing the right-wing voices that he said have led to "dysfunction, disorder and chaos" in Congress.
He also took a swipe at President Donald Trump, saying the political climate Trump has created was a factor in his decision to leave Capitol Hill when his term expires.
"I've always come to accept a certain amount of dysfunction in government, but I guess they've taken it to a new level," Dent told reporters on Thursday, according to the Philadelphia Inquirer. "They've taken the 'fun' out of dysfunction."
Reichert and Ros-Lehtinen didn't say whether Trump factored into their decisions. Still, Ros-Lehtinen has been a vocal critic of Trump, blasting his comments and policies regarding immigrants and his policy on transgender military service members. (Ros-Lehtinen's son is transgender.)
Democrats are excited by the retirements.
The party has sought to oust all three of these members of Congress for years, and all three appeared on a "retirement watch list" the Democratic Congressional Campaign Committee, which works to elect Democrats to the House, put out earlier this year.
"Given the negative national environment for the Republican Party, the DCCC knows that there are more retirements to come, particularly in districts that tend to vote for Democrats in other elected positions," the DCCC said, announcing their retirement watch list in May. "The following is our first look at the 2018 Republican Retirement Watchlist. The list will drive unique House Republican accountability focused on the embarrassment of being part of this dysfunctional GOP-controlled Washington, D.C."