Nearly half of Republicans have yet to hold a public town hall since Donald Trump took office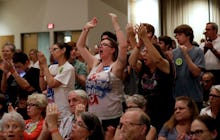 Welcome to Mic's daily read on Donald Trump's America. Want to receive this as a daily email in your inbox? Subscribe here.
Every day, we bring you a different dispatch on Trump's America. Today's focus: A town hall update.
Friday's Dispatch: Almost half of Republicans have yet to hold a town hall during Trump's presidency
It's been 231 days since Donald Trump became the 45th president of the United States. In that time, nearly half of Republicans in Congress have still not held a public town hall with constituents.
That's according to the latest data from Town Hall Project, a group that tracks when and if members of Congress hold a public town hall.
The August recess, in particular, is typically a time when representatives and senators meet with constituents.
The monthlong break was enough time for some, like Sen. Ron Wyden (D-Ore.), to hold dozens of public events. But for others, like Sen. Mike Crapo (R-Idaho), it was not enough time to hold a single event. (On his website, Crapo highlights the 200 town halls he held between 2014 and 2016. He has not held one in 2017.)
The numbers, shared exclusively with Mic, show 142 Republican members of the House and Senate have yet to hold a town hall. Of the 242 Democrats, 217 have held at least one.
Overall, a sizeable majority of members of Congress did not hold a town hall in August.
"There's no excuse at this point," Jimmy Dahman, founder of Town Hall Project, said. "They had five weeks. You can go on vacation, do a ton of things and still have time for a single in-person event."
Throughout 2017, town halls have delivered the most high-profile opportunities for confrontation between members of Congress and constituents.
After he brokered passage of the House health care bill, Rep. Tom MacArthur (R-N.J.) faced fury from voters in his district at a town hall. In fact, after that bill passed, only 7% of Republican House members held town halls.
Sen. Jerry Moran (R-Kansas) faced intense pressure during public events in July to oppose the Republican Senate health care plan. Moran ultimately came out against the bill at a key juncture.
That pressure is heavily coordinated by national grassroots networks like Indivisible and MoveOn, which push their members to show up en masse to GOP-held public events. That's led some Republicans to instead pursue pre-screened events, telephone town halls and office hours.
"For so many of these members, taking such important votes over the next couple weeks, to not hear from their constituents, is problematic and not helpful for our democratic process," Dahman said.
Today's question: Do you find your member of Congress to be accessible? Is it a factor in whether you vote for them? Email us your thoughts at trumpsamerica@mic.com.
Friday in Trump's America:
After facing pressure from activists and progressives, Democrats in Congress will push for a vote on the Dream Act in the House before the end of September. Members of Congress will hold a press conference Friday afternoon with activist groups to push that forward.
Education Secretary Betsy DeVos said she will roll back Obama-era guidelines aimed at combating sexual assault on college campuses. DeVos said in a speech Thursday that those guidelines overreached and prevented those being accused of sexual assault from receiving due process.
Sexual assault advocate and survivor groups told Mic that DeVos did not seem to understand the guidelines — and that rolling them back gives a false equivalence to the victim and the accused.
Trump associate Roger Stone said he is going to sue organizers of a cannabis forum for dropping him as a keynote speaker.
During a meeting with congressional investigators Thursday, Donald Trump Jr. contradicted the original rationale the president gave for why Trump Jr. met with a Russian lawyer during the campaign.
Many are outraged that Russia may have used Facebook to influence the 2016 U.S. election — but that's almost exactly what the U.S. did to Cuba in 2010.
The Pentagon is cutting loose journalists who have long accompanied the secretary of defense on international travel.
The base is solid: 98% of Republicans who voted for Trump in both the primary and general election still approve of him, according to an NBC/Wall Street Journal poll.
Key House Republicans in swing districts are not running for re-election next year. That's music to Democrats' ears.
Today's MicBite:
In an op-ed for Mic, Sen. Cory Booker (D-N.J.) debunks three myths about DACA.