At NYFW, a runway show celebrating the beauty and art of curly and natural hair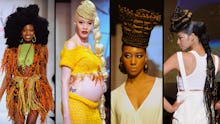 During New York Fashion Week, as models bopped down the runway in fringe at Calvin Klein and Rihanna launched her beauty line, hundreds gathered Thursday night to pay tribute to the beauty of natural and curly hair.
The event that brought them out to Gotham Hall in downtown New York City was Texture on the Runway, the annual runway show devoted to showcasing curly and natural hair as something that should be appreciated.
Fittingly, the runway was incredibly diverse, with more than 40 models of all ages, sizes and shades sporting natural hair in sculptural braids, dreadlocks and more.
Some models showed off 'dos that can only be described as art itself.
According to Michelle Breyer, cofounder of NaturallyCurly — the website devoted to helping people with different hair textures that has organized Texture on the Runway since 2012 — the idea for the event arose from basic frustration at the lack of hair diversity at fashion weeks.
"I would go to fashion week to cover it for NaturallyCurly and I was so frustrated," Breyer said in an interview with Mic. "Show after show, it was the same thing on the runway. Straight hair in a ponytail, straight hair in a bun. And I didn't see anyone who looked like our community. The most interesting people were out in the audience. I went back to my friends, had a little bitchfest and then was like, 'Well, let's have our own little fashion show.'"
The event has gotten progressively bigger every year, with 2017's show bringing in more sponsors and partnered brands, all of which got a set of models to work with and send down the runways.
One of those brands is Carol's Daughter, the hugely popular natural haircare brand. Mezei Jefferson, who acted as creative director for Carol's Daughter's models, created a theme of Brooklyn then and now, with every model wearing designs by Brooklyn-based designers.
"You don't see a lot of women of color [during fashion week], and then when you do, you don't see a lot with natural hair," Jefferson said. "So it's really important for the young girls out there to see somebody who looks like them with their type of hair walking on the runway."
Another company involved was Shea Moisture, the hugely popular haircare brand known for focusing on curlier, thicker and more natural hair. For their models, it was about showing as much diversity within natural hairstyling as possible, from beads in braids and afros to metals and shells in hair.
"We've come to elevate the whole experience as far as being natural and taken it up to being an art form," Diane C. Bailey, Shea Moisture's creative director for the show, said. "Our hairstyles are not temporary hairstyles, they are an art form. They're walking art, living art. We believe that all hair is equitable and beautiful and wonderful and worthy. So one of the things we wanted to feature is not just hairstyling, but the actual art of braiding and how that takes hair experience to the next level."
As NYFW continues its path to becoming more racially inclusive, we can hope for a time when hair itself gets more diverse, too.
"The goal is to just put this front and center, and there's no better time to do it than fashion week," Breyer said. "We want texture to be celebrated and to be seen as something that doesn't need to be fixed ... something that is fashionable and beautiful."