US leaves military option open as another potential North Korea missile test looms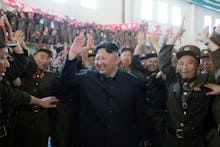 North Korea on Saturday will celebrate the 69th anniversary of its founding — an occasion its neighbors in the region believe will likely bring about another missile launch.
"The situation is very grave. It doesn't seem much time is left before North Korea achieves its complete nuclear armament," South Korean Prime Minister Lee Nak-yon told defense ministers Thursday, according to CNN. "Some believe North Korea may launch another intercontinental ballistic missile on the 9th; this time at an ordinary angle."
The new potential ICBM test looms as President Donald Trump continues to talk tough on North Korea, leaving open the military option as Russia and China have so far rejected a United States-backed plan to cut off the country's oil supply.
"Our military has never been stronger," Trump said in a news conference Thursday. "Hopefully we're not going to have to use it on North Korea.  If we do use it on North Korea, it will be a very sad day for North Korea."
"North Korea is behaving badly, and it's got to stop," Trump added.
U.S., North Korea poised for more brinkmanship?
Tensions have remained high between the U.S. and North Korea since August, when Kim Jong Un threatened to attack Guam amid a war of words with Trump, who'd vowed "fire, fury and frankly power the likes of which this world has never seen before" in response to further provocations.
North Korea backed off its Guam threat, announcing it will instead "watch a little more [of] the foolish and stupid conduct of the Yankees," but continued its nuclear program with an apparent test of a hydrogen bomb Sept. 3.
Asked if the U.S. would attack North Korea in response to the test, Trump said simply, "We'll see."
The U.S. has been pursuing non-military options, pressing the United Nations Security Council to issue more sanctions against Pyongyang.
But Russia — which exports 40,000 tons of oil to North Korea per quarter, according to the Kremlin — has dismissed a U.S. plan to choke off the country's oil supply.
Instead, Russia and China — North Korea's chief ally and trade partner — have called for the U.S. and South Korea to cease joint military exercises in exchange for North Korea ending its nuclear testing.
Nikki Haley, the U.S. ambassador to the United Nations, has called the proposed "freeze-for-freeze" program "insulting," saying that it would be unwise to "lower your guard" on Pyongyang and suggesting that the U.S. could resort to military force as its patience wears thin.
"Enough is enough," Haley said Monday. "We have taken an incremental approach, and despite the best of intentions, it has not worked."
North Korea responded to Haley's comments that the regime was "begging for war" by saying the "U.S. administration will have to pay a dear price for her tongue-lashing."
Trump has been presented with a menu of military options — including a pre-emptive strike — to deal with threats from the country, according to the New York Times. But it isn't clear if the heated rhetoric out of Pyongyang — or another potential missile test — will constitute such a threat in the eyes of the administration.
Trump discussed North Korea's most recent nuclear test in a Wednesday phone call with China President Xi Jinping, who promised to "strengthen coordination" with the U.S. as relations between Beijing and Pyongyang reportedly begin to sour.
But China's already fraught relationship with South Korea was further complicated on Thursday when the U.S. sent four Thaad missile defense launchers to the country ahead of North Korea's anniversary, which China's foreign ministry said would "jeopardize strategic and security interests of the regional countries."
South Korea's defense ministry, though, said that the measure was "temporary" and necessary as the region braces for another potential missile launch.