While You Weren't Looking: 5 political stories from the week that don't come with a 6-month deadline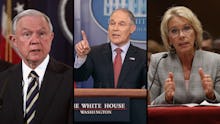 This week Trump moved to end protections for undocumented immigrants and stabbed his own party in the back on debt negotiations, all the while natural disasters roiled the entire Gulf of Mexico.
Here are this week's stories out of Washington that didn't get the breaking news treatment:
DeVos moves to roll back Obama-era sexual assault guidelines
On Thursday, Secretary of Education Betsy DeVos announced that she would be rolling back a set of guidelines put in place by the Obama administration to try and combat sexual assault on college campuses.
"The system established by the prior administration has failed too many students," DeVos said in a speech at George Mason University.
In a 2011 letter to public universities, the Obama administration threatened to revoke certain federal funding for schools that did not adequately carry out their obligations under Title IX of the Civil Rights Act, to work to address campus sexual assault.
Though, Devos criticized what she believed were failures of that system, she did not propose any new legislation to replace it.
Trump appoints anti-science politician to lead NASA
Trump appointed Rep. Jim Bridenstine (R-Okla.) to lead NASA. Bridenstine, a staunch conservative, doubts human contribution to climate change, despite its wide acceptance in the scientific community.
Bridenstine also advocates for devoting U.S. space exploration resources to set up operations on the moon to mine water ice for fuel.
NASA administrators have typically come from the science and engineering community and are not career politicians. If the Senate confirms Bridenstine, he will be the first politician in NASA history to lead the agency.
CNN's Kfile reported that a number of Bridenstine's social media postings have suddenly been scrubbed from the internet.
EPA pushes out hundreds of employees
Even as the country continues to face an onslaught of environmental catastrophes, Environmental Protection Agency administrator Scott Pruitt continues to oversee a shrinking of the agency he leads.
A report in E&E News reveals that Pruitt has already pushed out more than 400 employees through a combination of early retirements and buyouts with another 43 still considering taking similar deals.
Despite the growing threat of climate change, Pruitt has managed to reduce the number of EPA officials below Reagan-era levels.
Pruitt's ultimate goal is to buy out as many as 1,200 total agency employees.
Trump allies in Congress kill proposal to stop federal spending at Trump businesses
Congressional Republicans have successfully killed a proposal in budget negotiations to prevent federal contracts and spending from going to Trump-owned businesses.
The proposal was introduced by multiple House Democrats, but was killed by the Republican-controlled House Rules Committee, which oversees how legislation gets considered in a floor vote.
Several reports since the beginning of the Trump presidency have found that the Secret Service and State Department have spent tens of thousands of dollars at Trump-owned businesses on things like golf carts and hotel rooms in order to stay close to the first family while overseeing their safety during their travel.
Justice Department officially stops defending Obama-era overtime rule
The Justice Department has officially stopped defending an Obama-era rule that would have made millions of salaried workers eligible for overtime compensation.
The rule, issued by the Justice Department under former President Barack Obama, would have allowed anyone earning earning less than $47,476 to qualify for overtime pay. The current overtime pay cap is $23,660.
A Texas federal judge appointed by Obama shot down the rule last week forcing the Trump administration to decide whether or not it would seek an appeal. According to Bloomberg BNA, the Department of Labor under Trump has signaled that it may seek a more modest threshold increase instead.