Why some Floridians aren't leaving their homes for Hurricane Irma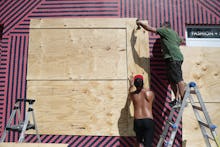 Juan Rodriguez, 22, works as a handyman in Juno Ridge, Florida, a small town near the beach in Palm Beach County, a county where hundreds of thousands residents are being urged by the government to evacuate in anticipation of Hurricane Irma. Rodriguez said over the phone that his house is in an evacuation zone — but he's not leaving.
"Pretty much everybody on my street is staying," he said. "I've seen people who are putting boards on their trailer."
To prepare for the Category 4 storm, Rodriguez and his boss Kevin Webb have been helping friends and family install hurricane shutters and plywood on windows to protect from the wind — the gusts of which, as of Friday afternoon, are expected to reach 90 miles per hour in the county. More than a dozen Florida residents interviewed by Mic shared a similar choice: Irma's unprecedented size actually makes it harder to find a safe place to go inland, residents said, and with only two major northbound highways, traffic out of the state has been at a crawl.
So without cash, gas, access to vehicles — or a place to go — many are hunkering down. Not everyone has "the means to travel out of the area of the storm," Webb said. "My mom is disabled, and she couldn't get a flight or a train out and she doesn't want to take public transportation."
Webb's landscaping company has been charging about $10 per installation for the hurricane preparation service, which is in high demand: Multiple Facebook groups set up by local media were as of Friday still being crowded with requests from residents who couldn't get away, or who lacked the equipment and funds to make their home hurricane-ready. It's near the first of the month, after all, and many have just paid rent and are tight on cash.
Prohibitively expensive flights and gas shortages have made evacuation even more untenable for many residents. Even those with a car and the means to get a hotel room say it's too late to leave. Instead, people are headed to whichever friends' and family members' homes they believe are likely to hold up best in the storm. Those with nowhere else to go may end up in shelters.
No place to go
Valentino Benitez, 48, manages a Stop and Shop in downtown Miami. He said he expects to work as late as 5 p.m. Friday, less than 48 hours before Irma is projected to make landfall. Benitez said he has no plans to try to leave the county — and instead will wait out the storm in the home he owns and lives in with his wife and 22-year-old son.
"I [don't] have another place to go right now," Benitez said. "I am worried about what will happen."
The risks are serious: More than 650,000 residents have been ordered to evacuate Miami-Dade County — the city's first mandatory evacuation order in 12 years and the largest the city has ever attempted.
"It's definitely barely subdued hysteria," said Andrew Tripodo, a 27-year old nonprofit worker from Miami, and a friend of mine, who recently moved back to the city. "I feel confident that my house is going to be OK and I'm going to be OK, but I'm worried about the city."
Local organizers are worried about hurricane readiness, particularly in poorer communities, said Valencia Gunder, a community organizer and nonprofit worker with the New Florida Majority: "People are not properly prepared."
Gunder said that to help, local organizations have banded together to open an impromptu emergency center in Liberty City, the largely African-American neighborhood that inspired the film Moonlight. She estimates that at best, about half of her neighbors are hurricane-ready.
"It's only a few of us who have hurricane-proof windows," Gunder said. "The only thing [city officials are] giving away are sandbags, so you need at least $200 to $300 to be properly prepared."
"People are not properly prepared."
One local realtor who grew up low-income in Miami's Little Haiti neighborhood told WLRN his family couldn't afford supplies during hurricane warnings when he was a child: Paying his later luck forward, he said he has bought water for families in need ahead of Irma, including one man he said showed him a negative bank account balance.
"It's so risky getting on the roads now."
Even those residents with the means to escape said they are hesitant to head north because of the dangers of getting caught in the storm while driving — and some are concerned about leaving behind their homes, cars and belongings. Webb said people are particularly afraid of looters.
Joel Larus, 93, said he and his wife have lived in the same Sarasota home for 23 years. It's their last hurricane season, he said, before moving north to be closer to their son in North Carolina. Their relatives wanted them to evacuate, but Larus and his wife decided to stay put.
"I didn't want to walk away from my home and all our possessions," Larus said. "I-95, we have been told, is almost bumper to bumper; the gas stations are without gas; there is no lodging in any of the hotels or motels, and to be in a car in a hurricane is the worst type of venue."
It's not just residences that people are worried about: Protecting their jobs and businesses was another reason sources cited for staying put — though there's little defense if the unusually strong storm ends up being as damaging as experts fear. Nearly 40% of small businesses affected by weather-related disasters never reopen, according to the Associated Press.
Melody Kasulis, sister of Mic writer Kelly Kasulis, moved to Florida recently to be with her fiance, a native who manages restaurants in West Palm Beach. The couple decided to stay because the roads are too risky, she said, and because her fiance has work obligations. Many local restaurants plan to stay open as much as they can, she said, to provide ice and water to people without power.
"His co-workers are scared, so he's constantly managing their anxiety, they're worried about their jobs," Kasulis said. "There are a lot of cons to staying, but it's so risky getting on the roads now."
Kasulis said her in-laws have already weathered many storms before in their sturdy family home, otherwise the young family would have likely chosen to leave: Hurricane preparation can be incredibly expensive, particularly for families without the means.
"$500 is the going rate to get your shutters up," Kasulis said. "And I don't have $1,000 right now to get these shutters up on the window, so we kind of made the decision to grab our valuables and get all our stuff in the center of the apartment and hope the roof doesn't blow off."
Blayn Jeffers lives with her husband and daughter in Cooper City, Florida, about 20 minutes away from the beach in Fort Lauderdale, and about a half an hour drive north of Miami. On Thursday night, Jeffers said, her family decided to ride the storm out, despite concerns that they could be without power for weeks once the storm hits. Preparing for the storm, she said, has been a nonstop sprint since Labor Day weekend.
"It's been like this constant, hurry up and find things that aren't there. My brother waited five hours for plywood," she said. "There are a lot of die-hard Floridians thinking [the media] is trying to scare everyone ... but a lot of people that would normally have stayed have left."
"$500 is the going rate to get your shutters up."
For his part, Rodriguez said while he is feeling confident his home will weather the storm safely, he is concerned about flooding — a problem already encountered by Hurricane Harvey victims in Texas. "We're from Cuba [where there] are shacks. Over here, these houses are real."
But "if we get flooded, that's the only thing I'm scared about," he added. "I don't want to be sitting on my roof."
To be certain, staying put — particularly in areas like the Florida Keys, which the government has designated as an evacuation zone — is not advisable. But for those who have no way to leave or nowhere to go, getting as prepared as possible might feel like the only option.
Mic will update this story as more information becomes available about Hurricane Irma.