These are the classy, portable cocktails you should be drinking in New Orleans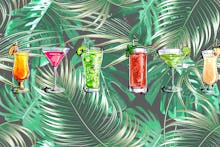 My friends and I were savoring the last few sips of our dinner cocktails at Shaya, an acclaimed modern Israeli restaurant in New Orleans, and planning where to spend the rest of our evening after we paid the check. What happened next shocked us:
"Would you like another round to go?" our server inquired. "To go?" we wondered aloud, asking the server if a place like Shaya — an elegant, candle-lit spot with gorgeous leather banquettes, a wall of hip succulents and outstanding food and drink — would truly, willingly bestow us with booze in disposable cups. (His response? "Of course!")
I ordered the Negev, a cocktail with a sweet and smooth tequila taste that complemented the sumptuous Israeli fare. The server told me it had been on the menu since day one and when the Shaya team tried to replace it, customers were so upset that the drink remained a menu staple.
"It's New Orleans and strolling around uptown with a cocktail is the best way to walk off endless amounts of pita and hummus," Sean Courtney, Shaya's general manager, said in an email.
New Orleans is one of the few U.S. cities where open containers of alcohol are legal, a mandate that liberates locals and visitors from the burden of rushing to finish their drinks before strolling onto the humid Louisiana streets. The lax law has an interesting history: In the 1960s, Bourbon Street became rife with seedy venues and fell on hard times. A few venues figured out that money could be made by "window hawking," or selling drinks to pedestrians who didn't want to go inside dubious establishments. On the bustling street, a "pedestrian corridor" emerged, Elizabeth Pearce, a historian, told a local ABC affiliate.
The law says glass containers are not allowed outside bars and restaurants, and yet, a well-made cocktail seemingly deserves to be served in a sturdy piece of glassware. When I initially pictured NOLA's open container culture, I pictured tourists toting nauseatingly sweet frozen drinks like the infamous, rum-filled hurricane. I pictured frozen daiquiris in big styrofoam cups. I pictured well drinks. But I was wrong. Once I experienced the magic of leisurely walking up and down the city's broad avenues with a drink in hand, I knew this ritual was most certainly good for the soul.
If styrofoam frozen daiquiris aren't your style, there are plenty of other adult beverages you can sip on while strolling the Big Easy. Here are six New Orleans establishments where you can score delicious cocktails in "go cups."
What you're drinking: A sazerac is a NOLA classic — and this cozy, unpretentious bar will deliver.
The to-go vessel: "Just regular-ass plastic cups," Mark Schettler, bartender at Bar Tonique, said in an email.
"You're an adult, you bought the drink — it's yours," Schettler said. He continued:
Do with it what you please, be that finishing it here or enjoying it on your walk home. None of this lights up, 2:00 a.m., throw 'em all back and rush everyone outside madness that the rest of the country does. The go cups are part of what adds up to an approach that is too often lost on people elsewhere — we don't drink just to get drunk here. We drink because that's one of the best ways to bring people together.
Old fashioned at Meauxbar
What you're drinking: What's not to like about old fashioneds? Sugar, bitters, whiskey — they'll wet your whistle at this watering hole and restaurant near Armstrong Park. (The perfect place for a boozy stroll, perhaps?)
To-go vessel: Plastic cups that are unbranded.
"Guests sometimes prefer to enjoy their cocktails while walking around to experience the city as opposed to always while sitting at a bar or table." — Robért LeBlanc, owner of LeBlanc + Smith
At least half of the guests at Meauxbar and other bars within the restaurant group LeBlanc + Smith take drinks to go, Robért LeBlanc, owner of LeBlanc + Smith, said in an email.
It's not just about getting inebriated. "We find the reason is usually far more nuanced," LeBlanc said. "New Orleans is a beautiful, walkable city with many historic buildings, wonderful architecture and great boutiques. So guests sometimes prefer to enjoy their cocktails while walking around to experience the city as opposed to always while sitting at a bar or table."
French 75 at Luke
What you're drinking: A French 75 is a NOLA tradition, and Luke's is a great place to get your fill of this fizzy beverage with a side of oysters. This French 75 is mixed with cognac instead of gin. (Get it half off during happy hour.)
To-go vessel: Plastic cups with the Luke logo.
"[Open container law] is a deeply integrated part of New Orleans culture in which to-go cups are more often an expected practice than frowned upon," chef Erick Loos said in an email.
What you're drinking: This restaurant, which serves so-called rustic colonial cuisine, has a solid cocktail menu. Go with the the tiki enough, which has pineapple, mint and gin.
To-go vessel: According to Neil Bodenheimer, partner at Cane & Table, customers can order drinks in hollowed-out pineapples, coconuts or branded plastic to-go cups.
"It's New Orleans and it's legal, so why would we want to deny our guests their rights?" Bodenheimer said in an email.
Mad Mayan daiquiri at D.B.A.
What you're drinking: This venue with live music has great limited-time daiquiris. The one above has watermelon, jalapeño, lime and Old New Orleans ovenproof rum. 
To-go vessel: You'll receive all drinks in a branded, black plastic cup.
"We do allow customers to take drinks to go ... for the 17 years we've been open," Tom Thayer, D.B.A. owner, said in an email.
Club paradise at Cavan
What you're drinking: You can get "anything from champagne to classic cocktails to signature drinks" to go at this converted mansion on Magazine Street, a spokesperson said in an email. Cavan changes the cocktail menu for each season.
To-go vessel: Plastic unbranded cups.
"Because Cavan changes their cocktail menus seasonally, people are taking High Lifes in the summer and hot toddies in the winter," a spokesperson said in an email.