What to do, see and eat in Aarhus, the Danish city giving Copenhagen a run for its money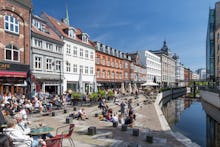 In 1985, while America was busy singing along to Madonna's "Like a Virgin," Europe was creating a new annual distinction for its lesser-known tourist destinations: the European Capital of Culture. The title (originally called City of Culture, but revised in the '90s to expand beyond cities), appoints a city or town in a European country as a cultural destination Europeans should venture out to in its given year of fame. Past winners, like Copenhagen, Denmark (1996); Prague (2000); Liverpool, England (2008, pre-Brexit) and San Sebastian, Spain (2016) have become world-renowned tourist destinations: Serving as a European Capital of Culture boosts attendance at cultural events and better infuses culture into everyday life, which makes these cities notable to "foreign press," according to an analysis commissioned by the European Commission.
2017's European Capital of Culture is Aarhus, Denmark, the country's second-largest city, after Copenhagen. Mic was hosted by Visit Denmark for five days to get a feel for the city.
Aarhus is home to about 330,000 people (for scale, Cleveland has about 386,000 people), spans about 35 square miles, and has its own share of Michelin-starred restaurants, world-renowned coffee shops, a globally influenced art museum, a local history museum, a museum dedicated to women's studies, an opera house, an amusement park, a bustling food hall and plays host to Northern Europe's largest food festival every fall.
Known as one of the happiest cities in the world, Aarhus is certainly worth a visit (or a move, because you'll want an EU visa after a few days walking the quiet, colorful streets).
A 45-minute flight or three-hour train ride from Copenhagen, Aarhus is easy enough to get to and much harder to leave. Once you arrive, you can get around completely by foot — or bike — making it possible to explore the entire city in a matter of days. Here's what to do when you're there.
Museums
Impossible to miss with its rooftop rainbow walkway, a 2011 installation by artist Olafur Eliasso entitled "Your Rainbow Panorama," ArOS is a destination for contemporary art. The rest of the exhibits change in this white-walled museum with round staircases resembling New York's Guggenheim, but expect to see themed shows, like a "Human Nature" exhibit that pairs old school European painters with more modern works and, the ongoing "No Man Is an Island" that explores human existence via larger-than-life fiberglass statues, a purposefully defaced Porsche, an artfully created ceramic office space and more. Don't skip the well-curated museum shop for home décor and accessories and grab a bite at the newly opened ARoS Wine and Food Hall for a spread of Danish snacks.
I'll admit, I was skeptical about visiting this living history "Old Town" where actors in period costumes pretend to have no idea what an iPhone is because it's the 18th century. Despite the initial creepiness, Den Gamle By is worth it for the old homes showcasing important periods in Danish history, to the period shops (think perfumes from 1927). There was also a retro café serving 1970s-style pastries, a 1970s-style grocery store and a replica of a gynecologist's office dating back to 1974, celebrating Denmark's legalization of abortion.
Slightly outside of the city center, the Henning Larsen-designed Moesgaard Museum is easily accessible by public bus. Exhibits are broken into historical time periods, from the origins of human life to the Viking era and beyond. Virtual reality, projected videos and more technology keep the visit interesting, though seeing the oldest preserved body in the world (circa 55 BCE), also known as the Grauballe Man, is reason enough to visit.
While the United States may still be crowdfunding an elusive women's museum, Aarhus' women's museum dates back to the 1980s. Permanent exhibitions include explorations on gender and race (including women's role in the Danish sale of the Virgin Islands they occupied to the U.S. as a lens), growing up male and female, the visuals of the female body in art and the history and rise of feminism and women's rights in Denmark.
Shopping
Aarhus' has two great shopping districts: The pedestrian-friendly Strøget, which has mostly bigger department stores and chains like H&M and Cos and the Latin Quarter, with a wide range of local boutiques, Danish chain stores and student-friendly thrift and book shops. Both areas are small enough to simply wander in and window shop until you find something appealing, but stop by AMOK Sykker for Danish jewelry, Decorate Shop, Illums Bolighus and the Kahler Flagship for Nordic homeware and Rains for some stylish and practical rainwear.
Keep in mind that most stores are closed on Sundays. And if you buy anything over 300 Kroner (roughly $48.30) ask for a VAT receipt so you can collect a 25% tax rebate at the airport.
Food
One of Aarhus' four dining destinations in the 2017 Nordic Michelin Guide, this farm-to-fork set-menu restaurant is a standout. A four- or eight-course meal is paired with wines from across Europe or non-alcoholic juices, and dishes range from pork cured in its own fat for a month to create optimal tenderness, to smaller, decadent dishes, like a poached lobster in cream with green strawberries. The menu ranges from 500 kroner ($80) for the abbreviated version, to 900 kroner ($145) for the full eight courses.
Named after a book of the same name, Hærværk by Danish writer Tom Kristensen (it's standard on Danish high school curriculums and tells the story of a depressed literary critic drinking himself to death), the restaurant projects a more uplifting, sustainable ethos. In the trendy dining room, housed in a former barbershop-turned-bookstore, you'll find only local, seasonal ingredients on the ever-changing prix-fixe New Nordic menu. A multi-course dinner plus four glasses of wine goes for 450 kroner ($72).
Yet another beacon of sustainability in Aarhus (catching a theme here?), this laid-back, casual café practices a minimal-waste style of cooking, dressing scrambled eggs in oils infused with fresh herbs and making sweet cakes out of root vegetables.
Pretty much universally recognized as the cutest, most alluring coffeeshop in Aarhus, La Cabra also serves up a great cup of espresso. Pull up a chair in the peaceful, modern Scandinavian café and sip on an award-winning coffee while also munching on homemade pastries or the beloved avocado toast.