How to work legally in the United States if you aren't a citizen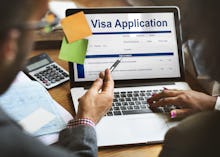 Plenty of data suggests that immigrant workers are a boon to the United States' economy — contributing valuable innovation, job-creation, labor and even tax revenue. But many hard-working and talented people, both inside and outside of the United States, don't have any way to work legally because of tough immigration laws.
"Our immigration system is so complicated, and employment-based visas and employment-based green cards come in all different types," said Lily Axelrod, a Memphis-based immigration attorney. Unfortunately, many of these are non-immigrant visas, which are temporary: Workers can come to the country for a limited period of time, but still have no path to build permanent lives here.
Worse, most options that make working legally possible — even temporarily — are closed to anyone who entered the U.S. unlawfully, including those brought over as children. "Our system is not set up to bring people from an undocumented status to being able to lawfully live and work," said Patricia Malone, the associate director of Immigration Advocates Network.
There are a few exceptions, though: The Immigration Reform and Control Act passed in 1986 provided a path to citizenship for 3 million undocumented immigrants who entered the United States prior to Jan. 1, 1982. And the 2012 Deferred Action for Childhood Arrivals, or DACA, which then-President Barack Obama created through executive order, provided work permits and protection from deportation for young people brought to the United States as kids.
But President Donald Trump's recent announcement that DACA will end within six months has thrown the future employment status of more than 787,000 young people currently protected by DACA into chaos.
For DACA recipients and others hoping to work in the U.S., here's what you need to know about options to get a visa — or renew your DACA benefits.
First, know the difference between immigrant and non-immigrant visas
The first thing for non-citizens to know about working in the U.S. is that there are two kinds of employment-based visas:
• Immigrant visas, which put you on the path to becoming a lawful permanent resident and perhaps someday becoming a citizen.
• Non-immigrant visas, which allow you to work in the U.S. for a limited time — usually up to six years. Most non-immigrant visas, with the exception of the H-1B visa for professional workers, typically require you to show you don't intend to establish permanent residency.
If you try to take steps toward becoming a permanent U.S. resident when you're admitted on a non-immigrant visa, you could jeopardize your chances of remaining lawfully in the United States. But the H-1B visa is one big exception.
The "H-1B visa is a visa for professional workers — people with a bachelor's degree or master's degree," Axelrod said. "It's a temporary visa for up to three years and you can renew it. They call it dual intent, but you can have an H1-B visa even if you have intent to remain in the U.S," she explained.
Here is how to get an immigrant visa
The U.S issued 617,752 immigrant visas in 2016, but because many are for nonemployment purposes, including ones for fiances and spouses of U.S. citizens, only about 140,000 of those are reserved for immigrants who want to work in the U.S. Here are your options for an immigrant visa that will put you on the path to becoming a permanent resident or citizen:
• EB-2: To qualify for this visa, you must have an advanced degree or a bachelor's degree plus five years of work experience. This is the largest category of immigrant work visas and includes architects, lawyers, doctors, engineers and teachers, according to USCIS.
• An EB-1 for those of extraordinary ability: You must have truly extraordinary ability to obtain this type of visa. Olympic athletes, Pulitzer prize winners and Oscar winners are among those who are eligible.
• An EB-1C for multinational executives or managers: This visa is an option only if you work for a multinational company and are coming to the U.S. to serve in an executive or managerial position.
And here is the Department of Homeland Security's guide to getting a green card, which allows you to become a permanent resident, living and working in the United States.
Here is how to get a non-immigrant visa
The U.S. issued 10,381,491 non-immigrant visas in 2016, but as with immigrant visas, most are not employment-based. Here are the ones that allow you to work:
• The H-1B program, which allows eligible companies who go through a certification process to submit petitions for foreign workers to come to the U.S. to do jobs requiring specialized knowledge. There are a limited number of H-1B visas available — the total number was capped at 85,000 in 2017 — and demand far exceeds supply. Bachelor's degrees are required for H-1B visa holders in fields like science, information technology and engineering, according to USCIS.
• The L-1A visa is for people transferring from foreign branches of companies.
• An O-1 is for people with extraordinary abilities like Oscar-winners and Olympians.
• An E-1 is for treaty traders or investors.
• A non-immigrant NAFTA Professional (TN) visa that certain Canadian and Mexican workers can use to come and work in the United States for pre-arranged business activities.
Why DACA recipients are a special case
Young people who are currently protected by DACA get work permits as opposed to visas. Anyone covered by DACA whose benefits will end between September 5, 2017 and March 5, 2018 can submit renewal requests through October 5, 2017, according to United States Citizenship and Immigration Services. Renewals typically last for two years.
Some DACA recipients may not be able to renew their status or continue to work after their DACA protections expire, absent a change in the law. But because some 15 states, including New York, have sued to block DACA's termination, the program's fate is still very much up in the air.
If the suit fails, "many folks will return to an undocumented status when their DACA expires," Malone explained. If your benefits are expiring, your best option is to do an intake interview with an immigration attorney or take an online screening to determine if you are eligible for immigration relief.
You might be told you must leave the United States temporarily, but it's important to understand that you may actually be barred from re-entering the U.S. after you leave. That's because being in the country unlawfully for more than 180 days after turning 18 triggers a bar on re-entering the U.S. for either three years or 10 years, with the 10-year bar applicable if you were "unlawfully" present in the country for more than one year.
Now, if you obtained DACA protection shortly after turning 18, this bar won't apply to you, Axelrod said, because you did not "accrue unlawful presence" that counts against you. But, if you were in the U.S. after turning 18 without DACA protection, the bar will make you ineligible for most employment-based immigration visas for a long time, unless you get a waiver because you have a U.S. citizen spouse or parent.
Another problem: While you don't accrue unlawful presence for being in the country before age 18 — which means you don't start the clock on that 3-month or 1-year period that triggers the ban — you do trigger a permanent ban if you were in the U.S. for a year or more, left briefly and then returned, even if this exit and entry happened when you were a child.
"If you came to the U.S. at age 2, your parents took you back to their home country when you were 5 for a funeral of a grandparent or to see family, and you then came back to the U.S., you've triggered a permanent bar," Axelrod said. This means you'd have to leave the country for 10 years, and after a decade, could apply for a waiver to return only if you have a spouse or parent that's a U.S. citizen.
What DACA recipients must do to get an employment-based visa
Even if the bar doesn't stop you from getting a visa, you have another challenge: "For any employment-based option, most DACA recipients would have to leave the country," Axelrod said.
Unless they fall within a narrow exception under the LIFE Act, which you're eligible for only if you or your parents submitted a qualifying immigration petition before 2001, most DACA recipients would need to leave the country with no guarantee they'd be allowed to return — even if they have an employer willing to go through the certification process and sponsor them for a non-immigrant H1-B visa.
"Unless DACA recipients are working for an exempt employer, like certain nonprofit hospitals, they'd have to apply in April of next year and they won't know for a while whether they've been picked in the lottery. And even if they do get picked, the start date [when H-1B visas can enter the U.S. and begin work] isn't until October 1." Axelrod said.
This means DACA recipients would face a difficult choice: staying in the country and continuing to accrue unlawful presence or staying outside of the country in hopes they'd be granted an H-1B visa and allowed to come and live and work in the country starting in October.
"The process can be a lengthy and time-consuming process," Malone warned. But for DACA recipients, this may be one of the only options available. Again, if this is you, contacting a legal organization right away to start getting help with your case might be the best move.
Groups that might assist you include the Equal Justice Center; the American Civil Liberties Union; ImmigrationLawHelp; the American Immigration Lawyers Association; the Immigrant Defense Project; the National Immigration Law Center; and the National Immigration Project of the National Lawyers Guild.
Sign up for the Payoff — your weekly crash course on how to live your best financial life.