What to tell a real estate agent when buying your first home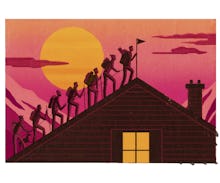 For a first-time homebuyer, it's essential to envision exactly what the definition of home looks like for you. By picturing your ideal home, you can best articulate your needs and desires to a real estate agent who can then refine and navigate your search.
"First-time homebuyers are hesitant to convey what they want, because they have never gone through the process before," a Hudson River Valley real estate agent said. "The biggest key is communication." A first-time homebuyer should never feel intimidated.
Ahead, first-timers share their personal journeys on how they took the homebuying process with a real estate agent at the helm and found a home made for them.
*Billy and Jon, Brooklyn
Keep an open mind to stay competitive in any market.
Brooklyn couple Billy, a 38-year-old branding specialist, and Jon, a 36-year-old designer, knew they had a difficult task ahead of them when they decided to buy a home. In complicated markets like New York City, where you're guaranteed to navigate through mountains of competing offers from other buyers, establishing trust with your real estate agent is necessary to wade through the complexities of the homebuying process.
Billy and Jon weren't tied to any particular space, but rather, a drive to own in New York City with close proximity to a subway stop. "We were aiming to buy something in New York City, anywhere we could afford," Jon said. Their motivating factor for finding a place in the city was knowing that the right place could potentially be their forever home.
Their real estate agent became a lynchpin in leading the couple through unchartered options to accomplish their goal. The couple was introduced to neighborhoods (and even surprising roles) they hadn't considered in the past. "We had never thought about purchasing a brownstone and being landlords as well as owners until [our agent] led us down that path," Jon said.
The competition was so fierce that "we had to make offers on pretty much every house we looked at," Jon said. But the agent led them through the intense bidding process strategically.
With many buyers in a competitive market like New York coming to the table with full cash offers, it can be difficult for those who, like Billy and Jon, are obtaining a mortgage to compete. Their agent helped them stick to the search and find appropriate properties, through the "nine months and 10 to 15 offers before one was accepted," Jon said.
In the end, the couple purchased an 1880s-era Queen Anne-style brownstone home for $790,000 in 2014, in Brooklyn's Bedford-Stuyvesant neighborhood. With "no reason to upgrade in the foreseeable future," they may have found their forever home.
"We had a great team," Jon said. "Without our [agent], we didn't really have a platform to make serious offers."
Ben Krause and Jessi Cimafonte, Colorado Springs
Narrow the search by pinpointing what matters most.
Ben Krause and Jessi Cimafonte, a couple in their late 20s and early 30s from Colorado Springs, Colorado, work in the city's nascent tech industry. The couple, who had been renting in the city's downtown area, wanted to stay connected to their neighborhood, have more space to satisfy their musical and artistic pursuits and host guests. But most importantly, they wanted to ensure their active pup had an outdoor space to frolic.
"We wanted enough space to accommodate our creative hobbies: music, crafts and other projects," Krause said. "Plus have room for guests who come to visit."
That outdoor space was an absolute for the couple. "Mostly because we have a dog," Krause said. "We wanted a big enough area for [our dog] to run around — she's a greyhound and sprints like one," Krause said.
Through in-person conversations, they were able to sort through their wants directly with their real estate agent. "We knew the neighborhood we wanted to be in; we knew our budget and it went from there," Cimafonte said. Remaining connected to their community was important to them. "We'd been renting [in] downtown Colorado Springs for years before we bought our current house," Krause said. "We ended up as close to downtown as possible, within our budget and timeframe."
Their real estate agent "directed the search process ... letting us decide which ones we wanted to check out," Krause said. "She was great about narrowing down options based on our requirements, but keeping enough variety for us to explore options that were slightly outside of our wish list. It was a good balance."
Cimafonte and Krause focused on their absolute non-negotiables in their search with their agent. "We felt heard, and [our agent] gave relevant and helpful input without being too pushy," Krause said. With a clear objective on what mattered most to their family (pup included), their thoughtful directives alongside their agent manifested in a circa-1938 solid stucco three-bedroom, two-bathroom home that the couple closed on in March 2016 for $230,000.
Still close to their old neighborhood, they've utilized an extra bedroom, the basement and garage as their creative spaces. And for their greyhound? She has plenty of room to play outside.
Amanda and Baris Sevim, Chicago
Beyond listing required amenities, communicate future financial planning.
When Amanda and Baris Sevim, a Chicago couple in their early 30s, started thinking about purchasing their first home, they thought first of the spatial layout they were looking for. They plotted out their essentials: two bedrooms, two bathrooms, modern amenities, an accessible patio and a covered parking spot.
Amanda, an early childhood education program director, had a very open dialogue with their real estate agent in stating her preferences for "modern amenities including stainless steel and granite." She and Baris, who works as an area sales manager, also knew that it was "important that we could get onto a patio from our unit without having to travel to another floor or roof," she said.
The couple was also open about this home purchase being part of a larger financial strategy, to eventually scale up to a larger, more permanent home. "We bought [our] unit with the plan of five years," Amanda said.
Once they fleshed out what their ideal home was, their intentions for a starter home and their budget of roughly $400,000, the couple relayed this information to their real estate agent, who located listings that fit their requirements. The real estate agent got the couple quick access to units in buildings they had earmarked.
The Sevims' thoughtfully outlined needs were a substantial launching off point for their search, allowing their agent to facilitate and narrow their search in the most efficient manner. In May 2016, they closed on a home that met all of their requirements for $390,000. The couple's asks were fairly common among buyers, but with their real estate agent they were able to distill their particulars into a successful hunt that led them to their ideal starter home.
Finding your own home
Housing markets are as varied as individuals' ideas and needs for a home. Whether a starter or a forever home is at the top of your list or you simply dream of modern amenities, succinctly and clearly communicating your wants and needs to a real estate agent sets you up to succeed and conquer the often complicated home buying process. Once the details are nailed out, whether you are embarking on the housing hunt as an individual or as a couple, you have one tangible thing to gain: a place to call home.
*Last names were withheld at the request of the subjects.