House Democrats threaten to "shut down" the government if "Dreamers" not protected by mid-December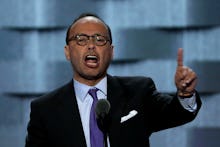 WASHINGTON — Progressive House members promised Friday afternoon that Democrats will support a government shutdown and not increasing the debt ceiling if there is not a "clean" vote on the Dream Act by Dec. 15.
In an emotional press conference with progressive and immigrant activists, Rep. Luis Gutierrez (D-Ill.) said Democratic House leaders have told him they will support stopping the government to protect 800,000 people whose status has been in limbo since the Trump administration announced it will suspend Deferred Action for Childhood Arrivals in six months.
A spokesman for House Minority Leader Nancy Pelosi did not respond to multiple requests for comment on Friday. Gutierrez said the "vast majority" of Democrats in the House would support the Dream Act or shutdown approach.
"If there is no pathway forward [for Dreamers] ... then there is no government for anyone," Gutierrez said, speaking through tears. "We will shut it down."
Rep. Raúl Grijalva (D-Ariz.), co-chair of the Progressive Caucus, told Mic the Congressional Hispanic Caucus and "vast majority of the progressive caucus" support this approach.
The Congressional Hispanic Caucus, along with Minority Whip Steny Hoyer (D-Md.), announced late Thursday it is pushing for a majority of House members to sign a discharge petition by the end of September. If the petition reaches 218 signatures, that would force a vote on the Dream Act.
"Republican leaders have the power the bring the Dream Act to a vote," a senior caucus aide said to Mic. "Until they do, we will continue to force a vote using a discharge petition and any other strategy that gets us a vote on the Dream Act."
Speaking to reporters as he left the event, Gutierrez said the shutdown commitment was a no-brainer for Democrats who have seen various constituencies targeted by President Donald Trump.
"They came after the Muslims, and the government continued to operate. They came after transgender [people], and the government continued to operate," Gutierrez said. "Now they're coming after the Dreamers — we're simply saying, you're not gonna cross this line."
The announcement came two days after Pelosi and Sen. Chuck Schumer (D-N.Y.) struck a deal with President Donald Trump to raise the debt ceiling and fund the government through Dec. 15. That bill, which also provided relief to victims of Hurricane Harvey, passed the Senate on Thursday and the House on Friday.
Progressive groups like Indivisible, and immigrant advocates like United We Dream opposed the deal because they saw it as Democrats forfeiting a way for Congress to act to protect Dreamers. Those groups stood with Gutierrez and Grijalva at Friday's press confront.
"We view this as a squandered opportunity to do something," Angel Padilla, policy director for Indivisible, said. "For the people that were directly affected by this decision on Tuesday ... no one can realistically call this a win for them. This is an absolute loss for them."
Padilla said Pelosi and Schumer have put the future of Dreamers on their shoulders. "If they fail, it's on them," he said.
In the House, 90 Republicans opposed the Trump-Schumer-Pelosi deal on Thursday. That gives Democrats leverage, Gutierrez argued, to force a vote on the Dream Act by mid-December.
"The coming Christmas has to be a Christmas of joy for all of us or none of us," the congressman said.
The Dream Act, first introduced as bipartisan legislation in 2001, has lingered in Congress ever since. The bill came close to passage in the Senate during Barack Obama's presidency but never came close to becoming law.
"We've been through a history of being put to the side on this issue," Grijalva said. "The time's up."
Sen. Dick Durbin (D-Ill.), the Democratic whip, earlier this week pushed for a deal to advance the Dream Act in the next few weeks. Gutierrez said he couldn't comment on that push; Grijalva said it wouldn't change his calculation to push for a floor vote on the Dream Act in the House. A spokesman for Durbin was not immediately available for comment.
When asked whether Democrats not pursuing this strategy through December would be a "betrayal," Grijalva demurred. "If it doesn't happen, that's a whole other commentary I have for you," he said.
Padilla was more blunt: "When you're in the minority [in Congress], there are moments where you have leverage," he said, "and this deal demonstrates priorities. And the priority was not Dream Act this week."
This is a developing story and will be updated.