'Insecure' season 2 was messy. But that finale was hella satisfying.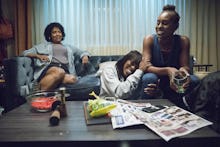 The second season of Insecure was hella messy.
I reviewed the season positively back in July, after watching the first four episodes, and I still stand by those words. The show — co-created by writer and star Issa Rae and Larry Wilmore — is definitely one of the best comedies on television, and brilliantly captures contemporary black life on the small screen.
Issa's bathroom mirror raps were sharper. The house party scene in the premiere was funny as hell, with Thug Yoda (Tristen J. Winger) and his friends bringing "Bompton" realness to what was supposed to be a low-key wine down. The sex scenes were as raw as ever. Black people looked so damn good on our TVs, and the soundtrack was perfectly crafted by musical genius Raphael Saadiq, the show's composer. And, of course, there was Due North, the fictional show-within-the-show that had all of the characters enthralled with its soap-opera take on slavery — it was a hilarious parody that could work as its own meta TV show.
But as the season went on, it was harder to enjoy the main characters' various story arcs. We cheered on Issa (Issa Rae) as she dove into her "ho-tation," but desperately wished she'd rein it in after a surprise facial damn near gave her pink eye. We rejoiced when Molly (Yvonne Orji) seemingly met a good romantic match in Lionel (Sterling K. Brown), but shook our heads as she turned her back on him to start sexing up her longtime friend, Dro (Sarunas Jackson), who's in an open marriage. And — if you're a single black woman like me — you probably just screamed at Lawrence (Jay Ellis) through the TV, as he kept putting his fuckboy tendencies on full blast. (Who shows up to a family barbecue — for someone you think you're just having casual sex with — and then disappears after rolling grandma over to the dominoes table?)
In consecutive episodes, we saw Issa, Lawrence and Molly at their worst, making knee-jerk decisions, chasing lofty expectations, and overreacting to situations beyond their control. It was exhausting and personally hard to grapple with — seeing aspects of your trash-fire dating life on TV isn't easy. To hell with #TeamIssa and #TeamLawrence: In season two's second half, everyone was being ridiculous and they'd all do well to just calm TF down.
But "Hella Perspective," directed by Melina Matsoukas and written by Rae, provides an overdue lesson in course correction and it pulled me right back in. One of the best-written episodes of the series to date, it shows the main characters operating with a clarity that was sorely missing in the latter portion of the season. In 30-day vignettes focusing on each of them, Issa, Lawrence and Molly — if only for a moment — finally have their "aha" moments. We see Issa and Lawrence each take responsibility for their actions and how they affected the other. Molly returns to the therapist's couch to work on her problem of getting hung up on what her life "should" look like.
It's gratifying to see such redemption after the characters were pretty reckless all season. Where Insecure often failed this year was in its most sensational moments, which seem ratcheted up several notches when compared to the tone of the first season. With so many struggle moments jam-packed into eight half-hour episodes, it was almost too hard to keep track of who was the Hot Mess of the Week.
Issa learns throughout the season that casual hookups aren't easy. Eddie, her neighbor who she has sex with at one point, turns her down later because he's preoccupied with another woman; Nico, her new suitor, wants to take things slow — too slow for her liking; and Daniel (Y'lan Noel) "embarrasses" Issa, as she puts it, when he ejaculates on her face without warning. She's shocked and outraged to the max after that last encounter, but her reaction — to storm out of Daniel's house and, later, when he fumbles an apology, to say he should never call her again — felt out of sync with the character.
Molly loses her composure earlier in the season, when, at her parents' vow renewal ceremony, she finds out her dad once cheated on her mom. She realizes that her idea of a perfect marriage — which her parents supposedly embodied — is based on a myth. She ultimately gives up on the search to find something meaningful and settles for having just a piece of something real with Dro.
By the penultimate episode, I was fed up with everyone. In that ugly moment outside of Derek's birthday party, when Issa and Lawrence verbally duke it out, I wasn't sure that my opinion of either character could recover. Issa says she was tired of dealing with Lawrence's "depressed ass" when they were together, and he's clearly still angry with her for cheating on him.
Still, as hard as all of that was to watch, it was worth it for the resolution. With Sunday's episode, the series made a right turn toward stability — its star characters are pursuing closure in their relationships and with various chapters of their lives. (It's disappointing, though, to see Molly's arc leave off with her still involved with Dro.) Issa's moving out of the home that she and Lawrence once shared. By the finale's end, the apartment is empty — with traces of the fire from the house party scene still left on the wall — but she and Lawrence fill the space with raw emotion and deliver some of the best dramatic lines of the season.
"Lawrence, I wanted to be better for you because of you," Issa tells him. "But somewhere along the way, I depended on you to be better for both of us, and when you were going through what you were going through, I just didn't know how to handle it."
Then, after they hug each other and as Lawrence is walking out the door, we see a dream sequence of what might have been: He proposes, they get married and raise a child together. It's an emotional montage, but thankfully it's a fake-out — it's satisfying to see Lawrence and Issa make peace with each other, but after everything they've said and done, it's time for them both to move on. When we're brought back to reality, Lawrence simply bids Issa farewell and moments later she's seeking comfort — and a couch — from Daniel. If she's able to wipe the slate clean with him, perhaps she could actually develop a real relationship with Daniel. (Though I do hope that she ends up staying with her quick-witted brother, Ahmal, so that we get more belly-aching laughs from him in the future.)
In its third season, Insecure would do well to take us back to a slower pace, where we can settle in and spend more time with the characters we love, instead of watching them get upset and pinball off of one another. In a series that's rich with such well-drawn comedic characters, it'd be a shame for the laughs to be overshadowed by messy drama like they were down the stretch of season two. I want to like Issa, Lawrence and Molly, and root for them to win in love and in life.
Here's hoping those expectations are met. Woot! Woot!