This week in Trump-Russia news: Mueller starts knocking on doors in the White House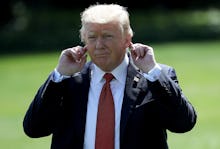 Special counsel Robert Mueller is pursuing interviews with top White House officials as part of his investigation into the misleading statement President Donald Trump crafted for his son in the wake of revelations that he'd met with a Russian lawyer who supposedly had dirt on Hillary Clinton in 2016, according to reports.
Donald Trump Jr. initially claimed his meeting with Natalia Veselnitskaya focused on "a program about the adoption of Russian children."
But the statement, which was later revealed to have been dictated by the president himself, was shown to be inaccurate by emails that showed Trump Jr. had met with the Kremlin-connected attorney after a mutual contact promised that Veselnitskaya had damaging information about Clinton that had been collected by the Russian government.
The now-infamous 2016 meeting has been a central focus of the investigations into possible collusion between the Kremlin and Trump's campaign. But it has been even more in the spotlight this week after Trump Jr. testified before Senate investigators and Mueller ramped up his probe into the rendezvous.
Here's what we know about the investigation into that Trump Tower meeting — and everything else that happened in the Russia investigations this week.
Mueller investigation enters the White House
Mueller has informed the White House that he plans to interview prominent aides and ex-aides to Trump, the Washington Post reported Friday.
The special counsel is seeking interviews with former White House chief of staff Reince Priebus, who was fired in July, and former press secretary Sean Spicer, who resigned that same month. He is also planning on interviewing Hope Hicks, Trump's interim communications director and one of his closest advisers. According to Politico, she has already hired a lawyer and the Daily Beast reported that the White House is working to set up a legal defense fund for administration staffers who are tapped for questioning.
According to CNN, they will apparently be asked about the statement Trump wrote for his eldest son aboard Air Force One after news of the Veselnitskaya meeting broke.
The White House had tried to distance Trump from the meeting — which was also attended by senior adviser Jared Kushner and then-campaign manager Paul Manafort — explaining that the president had been unaware that it had taken place.
According to the Post, Mueller also wants to question the high-profile Trump officials on other matters relating to possible collusion between the campaign and Russia, along with potential attempts by the president to interfere with the probe by firing FBI director James Comey.
In addition to Hicks, Priebus and Spicer, Mueller reportedly told the White House that he plans to talk with White House counsel Don McGahn and one of his deputies, James Burnham, who as well as Josh Raffel, a former horror film public relations executive hired by Kushner in April.
Don Jr. tries to explain Russia meeting to Senate
In another sign that the Russia investigations are getting closer and closer to the president, Trump Jr. appeared before the Senate Judiciary Committee on Thursday, where he sought to downplay his 2016 meeting with Veselnitskaya.
In his opening statement to the investigators, the president's son maintained that nothing came from the meeting, but he directly contradicted his initial explanation by stating he took the meeting to evaluate Clinton's "fitness" for office.
"To the extent they had information concerning the fitness, character or qualifications of a presidential candidate, I believed that I should at least hear them out," Trump Jr. said in the closed-door testimony.
In response to questions from Senate investigators, Trump Jr. claimed he did not remember details of the meeting, hadn't told his father about the meeting after it happened and was not privy to details about how his first statement was crafted on Air Force One, sources told CNN.
"Earlier today, I met for more than five hours with members of the Senate Judiciary Committee and their staffs as part of the Committee's ongoing investigation into potential violations of the Foreign Agents Registration Act," Trump Jr. said in a statement Thursday. "I trust this interview fully satisfied their inquiry."
FBI, Congressional investigators butting heads?
For weeks, Mueller's and congressional investigators' parallel probes have been ramping up. As they have, though, the teams looking into Trump's Russia ties have apparently begun to trip over one another, CNN reported Tuesday.
According to the repot, Mueller's team has been competing for witnesses with House and Senate investigators — and there has been a lack of communication between the four major Russia probes. Those tensions could become more pronounced as the investigations enter a new, even more public phase this fall.
Mueller reportedly met with congressional investigators recently in an attempt to keep the various probes from conflicting with one another.
Trump meets with new Russian ambassador
Anatoly Antonov, Russia's new envoy to the U.S., received a "friendly and warm" reception from Trump Friday, according to Russian state media.
Antonov, a former deputy defense minister who was sanctioned by the European Union for his role in the country's annexation of Crimea in 2014, replaced Sergey Kislyak as the Russian ambassador in August.
Kislyak's contacts with members of the Trump team — including Kushner, Michael Flynn and Jeff Sessions — have played a significant role in the ongoing Trump-Russia scandal. He was also present at an Oval Office meeting in May in which Trump revealed "highly classified information" to Russian officials.
"I told [Trump] that we count on improving relations between our two countries," Antonov said after meeting the president Friday. "We agreed with his colleagues, his staff, to continue cooperation."