Hulk Hogan's lawyer continues anti- 'Gawker' crusade by suing 'Jezebel'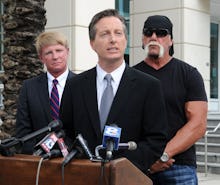 The lawyer who represented professional wrestler Hulk Hogan in a lawsuit against Gawker Media that led to the site's bankruptcy and shutdown is continuing to file lawsuits against the remainders of the website, which are now owned by Univision.
Charles Harder — who was bankrolled by tech billionaire Peter Thiel as part of Thiel's plan to bring down Gawker — on Thursday filed a defamation lawsuit against Jezebel, a former Gawker site, on behalf of Gregory Scherick, the leader of a therapy group that ex-members described in a May 2016 Jezebel article as a "cult."
The suit, filed in Manhattan Supreme Court, argues that the claims about Scherick made in the piece negatively affected his personal and professional reputations, according to the New York Post, which first reported the suit.
The lawsuit names former Jezebel editor in chief Emma Carmichael and the post's author, Anna Merlan, as defendants.
Gizmodo Media Group, the collection of ex-Gawker sites now owned by Univision, argued that the suit was meritless, not least because litigation against Jezebel should have been brought when Gawker Media was in bankruptcy court.
"This case is nothing more than another obvious attempt by Charles Harder to intimidate journalists," Gizmodo Media Group said in a statement posted to its website Thursday night. "The story in question was published on May 10, 2016— months before our acquisition of certain Gawker Media assets, including Jezebel. Any litigation over the story should have been brought against Gawker Media in bankruptcy court — not against Gizmodo Media Group or the individual writers. We believe this suit is meritless and we plan to contest it vigorously."
The lawsuit is the second suit filed in recent months against former Gawker sites by Harder. In June, Harder filed a lawsuit against Deadspin, another former Gawker site, on behalf of R.J. Bell, a sports betting analyst who says he was defamed in an investigative piece published on the site in June 2016. Gizmodo Media Group has sought to have the case dismissed, calling it "meritless."
Ryan Goldberg, the reporter for the article in question, said in a statement provided to Mic that the suit against Deadspin would, if allowed to move forward in court, "chill my work and threaten investigative reporting by freelance journalists across the country."
"I can think of no reason other than harassment that Bell and Pregame filed this suit against me," he said in the statement.
Harder has taken up a number of cases brought by powerful people against media companies and journalists. Harder represented first lady Melania Trump in both a suit against the Daily Mail and in a legal threat to People magazine after a writer for the magazine alleged that President Donald Trump had forced himself on her in 2005. He also represented the late former Fox News chairman Roger Ailes in a legal threat against New York magazine, for articles written by Fox News chronicler Gabriel Sherman.
On Wednesday, a judge dismissed a $15 million defamation lawsuit against the tech news site TechDirt brought by Shiva Ayyadurai, whose claim that he invented email was debunked in a series of posts on the website. Harder had represented Ayyadurai in the case.