Fox News host Eric Bolling out following sexual harassment accusations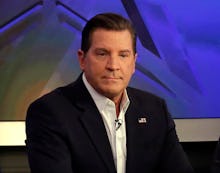 Fox News show host Eric Bolling has exited the cable channel following an internal investigation into whether Bolling sent unsolicited lewd text messages to female colleagues.
"Fox News Channel is canceling The Specialists, and Eric Bolling and Fox have agreed to part ways amicably," a Fox News spokesperson said in a statement to Mic Friday. "We thank Eric for his 10 years of service to our loyal viewers and wish him the best of luck."
It's unclear which show will replace The Specialists, which had aired at 5 p.m. on weeknights.
Bolling had been absent from Fox News since Aug. 5, the day after a bombshell report in HuffPost that alleged he had sent unsolicited photos of male genitalia to at least three female colleagues at Fox News and Fox Business.
At the time, Fox said in a statement to Mic that the channel would conduct an internal investigation into the allegations, and that Bolling would be suspended from the network until the investigation was complete.
Bolling has denied the charges made against him. He has also threatened to sue reporter Yashar Ali for defamation. Ali and HuffPost editor in chief Lydia Polgreen said they stood by the report, which had 14 sources.
Bolling's departure marks the latest sexual harassment scandal at the channel. In 2016, Fox News's chairman Roger Ailes left the company following a high-profile sexual harassment lawsuit from former anchor Gretchen Carlson, which spurred a number of other women to allege similar treatment. Several months later, Fox News host Bill O'Reilly was forced out after reports that he and Fox News had quietly settled a number of sexual harassment suits.
Meanwhile, Charles Payne, a host on Fox Business, returned to the channel Friday after he was cleared in an investigation into claims of sexual harassment, the Los Angeles Times reported Friday.