DACA protesters to Trump: We will not be used as bargaining chips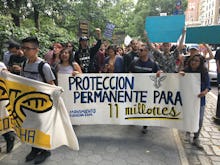 NEW YORK — Hundreds of protesters rallied in front of the Trump International Hotel on Manhattan's Upper West Side, where a group of DACA recipients sent a clear message to the president — they will not be used as pawns in his political games.
"We will not win with changing politicians hearts," Catalina Santiago, a DACA recipient and volunteer organizer with the group Movimiento Cosecha told the crowd. "DACA has an expiration date. Permanent protection will not have an expiration date."
On Tuesday, President Donald Trump announced that he would end the Deferred Action for Childhood Arrivals program in six months, and implored Congress to find a solution before that deadline.
Reports since have suggested that Trump and his allies in Congress may be planning to try and use DACA as a way to approve funding for a Mexican border wall or increased border security.
But the prevailing sentiment among the DACA recipients in attendance was one of defiance, making clear that they would not be used as a cudgel against their own community.
Many of the close to 1,000 people in attendance at the rally said they were there to support DACA recipients.
"I'm here to defend DACA, to stand in solidarity with our immigrant brothers and sisters and to make sure our DREAMers aren't lost," said Caleb, a 23-year-old citizen referring to a common term used to describe DACA recipients. He declined to give his last name.
But DACA recipients themselves were there to stand in solidarity with another community, the 11 million undocumented people currently living in the United States.
"This is not just about DACA," said Catalina Adorno, another DACA recipient and organizer with Cosecha. "This is about dignity and respect for all 11 million undocumented people."
For many DACA recipients, the distinctions drawn by the politicians and the media between themselves and the rest of their community is frustrating.
"DACA did not change me, DACA changed you." Lee Adorno, another Cosecha organizer, chanted through a bullhorn while the rest of the crowd repeated his words. "With DACA you treated me differently, you gave me worth. That piece of paper changed your mind. My parents never had that chance."
Adorno later went on to describe the pain he felt watching his mother mourn the death of his grandmother, whose funeral she was unable to attend for fear she would not be able to re-enter the United States.
"My mother had to cry alone and I couldn't do anything about it." Adorno told the crowd. "I was in the same cell as my mother, imprisoned by the same system."
After rallying in front of Trump's hotel, protesters marched up Manhattan's posh Upper West Side neighborhood chanting "Undocumented and Unafraid" and "Sin DACA, sin Miedo" (without DACA, without fear).
Organizers with Cosecha say they are planning to capitalize on the outpouring of support for the undocumented community by holding a weeklong labor strike. The strike, which will include both citizens and undocumented immigrants is meant to demonstrate the labor power that 11 million people hold.