Dia&Co wants to show you what the future of fashion should look like, starting at CURVYcon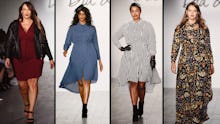 Dia&Co's show at CURVYcon, the annual convention centered on the fashion needs and desires of curvier women, on Friday shouldn't have been anything but ordinary. Models merely walked down the runway in clothes by various designers and brands that have all partnered with Dia&Co, a clothing subscription service aimed at plus-size and curve women.
Among them were NANETTE Nanette Lepore, which marked the designer's first foray into plus-size clothing; Rebel Wilson x Angels, Wilson's eponymous label; RACHEL Rachel Roy, Roy's own plus-size collection; and Girl With Curves, a new brand from the hugely popular blogger Tanesha Awasthi.
"I just really wanted to bring sophisticated, chic, contemporary clothing," Awasthi said in an interview before the show. "I really want people to put on the clothes and just feel beautiful. ... I think this show makes such a statement that we're moving fashion forward. We're the ones doing that."
Celebs like Lizzo and Stacy London sat front row.
There was nothing different in this show than any other fashion show over the weekend. Models pranced down the catwalk in sky-high heels and booties. They accessorized with trendy glitter socks. They strutted in their flirty dresses to pounding music from artists like Kesha. Nothing out of the ordinary except, of course, that every single model was plus-size or curve, with top models like Precious Lee and Marquita Pring among them.
For CURVYcon, even this show was a first. Never before, in its two-year history, had the convention hosted a fashion show, instead choosing to have booths for brands like Curvy Kate, Lane Bryant, ModCloth, Simply Be and recently PREMME that cater to curve and plus-size women, and host inspiring speakers.
And of course, it did that, too, on Friday and Saturday, but this show was the headlining event. It showed us what it really wants the future of New York Fashion Week to look like, during NYFW no less.
For Dia&Co, this marks just the beginning of its quest to make its fashion vision — that women of all sizes are created equal — one shared by more top designers. Last February, on the very first day of NYFW, Dia&Co took out a full-page ad in the New York Times, calling on designers to create more clothing for all women, especially the American women who wear sizes 14 and up.
"We ended up having a much more comprehensive conversation around what it truly looks like to move fashion forward," Dia&Co CEO Nadia Boujarwah said in an interview before the show. "We've been able to speak with so many different stakeholders in the industry. We heard from mannequin makers, design educators and aspiring designers and young designers and models."
Seven months later, Dia&Co got to show a little bit of the results of that call, like its collaboration with Nanette Lepore, who Boujarwah said came to her after the ad, as did Rebel Wilson.
"What we've come up with is a three-part plan," Boujarwah outlined. "It's really about supply. It's about showing and representation, and it's about supporting the community. The supply bucket is really how it all began. How do we bring more designers into plus, how do we really expand what's available, and we're showing tonight some of the initial products from that, like Nanette Lepore."
The brand is also attempting to lay the groundwork for even more meaningful and powerful change within the fashion industry, from almost all angles.
"One of the things we wanna make sure we're doing is laying the foundations for the longest term change that we can," Boujarwah said. "A big part of doing that involves getting involved in fashion education, being a part of working with designers in the beginnings of their careers and making plus-size clothing a norm."
If you think all of this sounds a bit intense at the moment, especially given that plus-size models at NYFW remain incredibly rare, then that's the entire point. After decades of being ignored, Boujarwah sees her opportunities to finally broaden the interests of designers and brands, and she's going to take them.
"The truth is that all women are interested in fashion, and there's no size for which an interest in fashion goes away," Boujarwah said. "And so being able to see fashion in all sizes and experience fashion in all sizes, in our view, is critical and the direction we're all going in."