Sen. John McCain: DACA recipients deserve a path to citizenship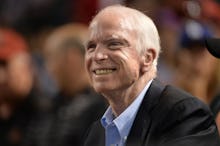 In his first television interview since returning to Congress, Republican Sen. John McCain said he wants to see a path to citizenship for recipients of the recently rescinded Deferred Action on Childhood Arrivals program.
"[It's not] conscionable to tell young people who came here as children that they have to go back to a country that they don't know," McCain said of President Donald Trump's decision to end the program. "There is 900 of these Dreamers that are serving in uniform in the United States military. Are we going to go to a young man or woman serving in Afghanistan or Iraq today, and say, 'Hey by the way, you're a Dreamer, get back to fill-in-the-blank?'"
But those 900 active duty DACA recipients are just a small fraction of the estimated 800,000 total DACA recipients that have lived and worked on United States soil without fear of deportation since former President Barack Obama announced the program in 2012. A keystone of Obama's legacy on immigration, DACA sought to alleviate the fear of immediate deportation from those who illegally immigrated to the United States as children.
Though repealing the program was one of Trump's major promises to his base throughout his campaign, he appeared to demur on ending DACA after his inauguration, promising to treat its recipients "with great heart."
Despite Trump's promises, United States Attorney General Jeff Sessions announced on Tuesday that the president was rescinding the program. According to a White House official, DACA recipients who lose their recognition will be treated "like any other person in the country illegally," suggesting they would be detained and deported.
To prevent that from happening, McCain said the United States needs a "comprehensive solution" to DACA as the White House winds down the program — and it's up to Congress to develop it.
"We need it to go through Congress, which is what DACA did not," McCain said. "And we did it once in the Senate, we can do it again in a bipartisan fashion."
According to Democratic House Minority Leader Nancy Pelosi, the president may want that, too.
"The president, I think — I'm hoping and I'm praying — that the president really cares about the Dreamers," Pelosi said Thursday. "It's very clear he wants Congress to act to get this done. The president said he supports [the DREAM Act], he would sign it."
The DREAM Act — an acronym for Development, Relief and Education for Alien Minors Act — seeks to provide protection from immediate deportation for those young undocumented immigrants once eligible to receive DACA. The bill was first introduced in 2001. Though it passed the House of Representatives in 2010, that version of the DREAM Act fell just five votes short of passing in the Senate.