More than a million people without power in Florida as Irma closes in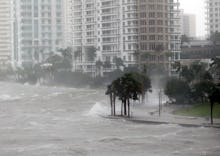 By noon on Sunday, as Hurricane Irma brought high winds and heavy rain to much of southern Florida, more than 1.6 million people were without power, according to the Palm Beach Post. A spokesperson for Florida Power & Light said that as many as 3 million people could lose power thanks to Irma.
"When you are at home riding this through, and power goes out, it is out for a long time," FPL CEO and President Eric Silagy said on Sunday, according to the Palm Beach Post. "By the time the storm clears, some people will have been out for a day, and we haven't even been able to roll a truck."
At least 3 people were killed in Florida as of Sunday afternoon, as Irma bore down on the southern parts of the state, ABC News reported. One man was killed in Monroe County after he lost control of the vehicle he was driving through high winds. Two more were killed in a car crash in Hardee County.
Miami
By Sunday afternoon in Miami, wind speeds were up to nearly 100 mph, ABC News reported, citing information from the National Weather Service.
The high winds had already led to the collapse of a tower crane at a Miami construction site. Irma also caused power outages and flooding through the city, the New York Times reported on Sunday — but, as Irma moved westward, Miami seemed to have been spared a direct hit.
Tampa
In Tampa, a city on the western coast of Florida that hasn't been directly hit by a hurricane in 96 years, residents were preparing for the worst on Sunday. ABC News reported that the eye of the storm is expected to move over Tampa overnight, and a tornado watch is also in effect in the area.
According to the Times, the city, which will likely bear the full brunt of the storm around 9 p.m. Sunday night, was originally projected to be spared.
"Everybody has a plan until they get punched in the face," Tampa Mayor Bob Buckhorn, told reporters Sunday morning, according to the Times, "Well, we're about to get punched in the face."
The National Hurricane Center issued an advisory on Sunday, warning that Tampa Bay was in danger of storm surges. When Irma arrives, the Times reported, it will likely bring high winds, heavy rain and possibly tornadoes to the area.
Naples
The coastal city of Naples, Florida, was directly in Irma's path on Sunday afternoon. According to ABC News, storm surges of up to 15 feet were predicted for the Naples area.
Just before 2 p.m. on Sunday afternoon, the Naples Daily News warned residents to "take shelter immediately" and that Irma was only 19 miles away from downtown Naples.