Video emerges showing popular YouTuber Pewdiepie using a racial slur while streaming a game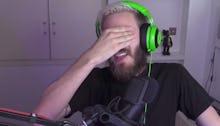 On Sunday, a video emerged on social media that appeared to show Felix "PewDiePie" Kjellberg, an influential gaming YouTuber who has 57 million subscribers, calling another player a "fucking n*gger" during a livestream of PlayerUnknown's Battlegrounds.
"What a fucking n*gger!" Kjellberg says while taking shots at an opponent. "Geez, oh my God, what the fuck? Sorry, but what the fuck? What a fucking asshole."
A clip of this moment is embedded below.
A longer version of the video uploaded to Reddit shows the popular streamer appearing to apologize for his use of the slur.
"I don't mean [fucking n*gger] in a bad way," Kjellberg said with a laugh.
Though original footage of Kjellberg's livestream is not available on PewDiePie's YouTube channel, Mic has reviewed a clip of the incident published by YouTuber Albert_Fn_Wesker. In it, video capture of the YouTuber's computer screen shows that PewDiePie's stream was originally titled "CALIFORNIA ROLL."
When you search that term on Google, you'll find a link to a video on PewDiePie's channel — but when you click that link, you'll see an error that the video is unavailable, suggesting that Kjellberg removed it from his channel.
Though Kjellberg may have erased the offending video from his account, several versions of the it have spread across social media, including sites like Twitter, NeoGAF and YouTube.
In response to the incident, Sean Vanaman, co-founder of Campo Santo, said his studio would be filing copyright takedowns of Kjellberg's videos in which he plays Firewatch, Campo Santo's debut game.
This is not the first time Kjellberg has used the anti-black slur on YouTube. In January, the influential gamer uploaded a video wherein he used a more colloquial version of the word to express disbelief that he had ranked on a list of the most attractive male celebrities.
"Eighteen, n**ga!" the YouTube streamer shouted in celebration.
No stranger to controversy, Kjellberg seems to make overtures toward some of the most unsavory figures in his conservative following. In a video from late July, he filmed himself sketching Pepe the Frog, a de facto symbol of the far right. His most recent video, published Sunday, criticizes Sarah Silverman and Jennifer Lawrence for using natural disasters as vectors for arguments about climate change and President Donald Trump.
In February, Kjellberg lost contracts with Disney and YouTube Red after a report from the Wall Street Journal found that he had used Nazi imagery and made several jokes about Hitler across numerous videos. Kjellberg characterized the Wall Street Journal's report as an unfair attack rooted in the media's fear of the power that YouTubers like him wield.
Despite his penchant for offending liberal sensibilities to the delight of his base, Kjellberg has tried to distance himself from some of his more overtly hateful fans. In the wake of the August 2017 white supremacist-led riots in Charlottesville, Virginia, the streamer published a video in which he explained that the violence at the "Unite the Right" rally had motivated him to stop employing Nazi-based humor.
Mic has reached out to Kjellberg for comment on the Battlegrounds livestream. We will update if he responds.
Sept. 10, 2017, 5:57 p.m. Eastern: This story has been updated.