At NYFW, Christian Siriano prioritizes not just fashion, but the diversity of who's wearing it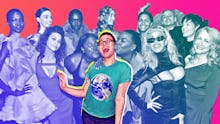 In contrast to his FW17 runway, held at the Plaza Hotel's lavish Grand Ballroom, Christian Siriano's latest collection felt distinctly lighter — quite literally, with the Freedom Tower peeking out of the skyline through the giant sun-soaked windows at Pier59 Studios on Saturday afternoon, a middle point in the eight-day sprint that is New York Fashion Week.
But it wasn't just sunlight that contributed to the lightness; it was a buoyancy in mood. Whether it was Leslie Jones in the front row telling models "You're beautiful girl, you know it" as they sauntered past or the concerted effort to cast a diverse set of models while making sure the room watching them was equally diverse, Siriano once again asserted his proclivity toward moving where the industry as a whole has largely stalled.
Approximately, 15 models of color and 12 plus-size or curve models walked, with trans women (like Avie Acosta) and men (including Joel Wolfe and Austin K) among the fold. It's bizarre painting a runway that's reflective of the real world as progressive, but fashion's at times antithetical ideals — think tall, waifish, fair skin, etc. — make a Siriano runway a continual breath of fresh air.
The atmosphere backstage 90 minutes before the show was the kind of chaos evocative of a family reunion and not that of frenetic paranoia. Runway vets Coco Rocha (who opened and closed the show), Nykhor-Nyakueinyang Paul, Candice Huffine and Precious Lee were seated for hair and makeup while Siriano himself fluttered in and out of the room, lively but never manic.
"The clothes are the easy part," he said, as we watched the collection being steamed around us, "because I never run out of ideas. It's just putting it all together and making it all a show that's hard. We have 44 models, and we're putting on basically a Broadway production with 1,000 people in the audience — but we get one shot."
Making sure it all goes off without a wrinkle is LDJ Productions's Rachel Young. "I have become the calm within the storm," she said as we sat in the booth from where she would direct the show in less than an hour. "A lot of people come to me to solve issues that can range from 'we don't have chairs' to 'we've run out of credentials' to 'the music isn't working' to 'the lights aren't on.'"
Young is responsible for calling the show, meaning it's her job to work with Siriano and his vision to choreograph the 63 looks that encapsulate the collection, which means allotting the proper time for models to change during what will ultimately be a show less than 10 minutes in length.
The scope isn't the only thing that's changed for Siriano since his first collection debuted nine years ago, it's who he's creating it for. "I stopped doing it for tons of other people and realized who was more important to support during fashion week, and a big part of that was the customer," he said. "Where we never used to have clients and customers [in the crowd], now that's half the show, because they're the ones buying the clothes. I want to make sure women are seeing the clothes, that it doesn't just go away, and that they can buy them."
This attention on the consumer versus fashion's elite has earned Siriano lucrative contracts with Neiman Marcus, Lane Bryant and Payless as well as a loyal celebrity following, which includes everyone from Issa Rae to Kathy Bates to former first lady Michelle Obama.
And while Siriano has cemented his reputation for throwing out the old fashion playbook, he's not afraid to call out those who remain stagnant and advocate for a more inclusive vision of fashion.
"I haven't seen much of what's happening this week, but I've talked to a few people and the runways aren't very diverse this season, which I think is very weird 'cause I'm like 'Wait, what happened?'" he said "I thought we were going to change that a little more. Even someone like Calvin Klein. Come on, they could do such amazing things. Not to point fingers at anybody, everybody has their thing that they want to do, but we all have to band together because fashion is the fun part. All the political stuff that's going on is so horrible that this should be fabulous and fun and make women feel good."
Asked if he sees a splintering in the world of fashion between designers like himself, Prabal Gurung or Chromat's Becca McCharen, all of whom have prioritized diversity, versus legacy brands like Calvin or fashion world darlings like Demna Gvasalia (who himself has been known to cast "whites-only" runway shows), Siriano is unsure. While he wants to wait until the season concludes before forming an opinion, he did note that it is "strange." "It's a challenge that we're all still trying to figure out."
The industry may be trying, but Siriano himself seems to have it all figured out.