Some people now say Donald Trump is an "independent," not a Republican. Tell us what you think.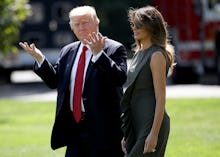 Welcome to Mic's daily read on Donald Trump's America. Want to receive this as a daily email in your inbox? Subscribe here.
Every day, we bring you a different dispatch on Trump's America. Today's focus: Where does Trump stand, politically?
Monday's dispatch: Is Trump an independent? Or a conservative?
We try to avoid too much "inside the Beltway" chatter, but there's an ongoing debate about President Donald Trump's political identity you should consider.
After he cut a deal last week with congressional Democrats, a wave of stories declared Trump an "independent."
"Bound to no party, Trump upends 150 years of two-party rule," the New York Times declared. "[The president] now appears unbound and untethered by party allegiances," the Associated Press wrote.
From Washington Post reporter Robert Costa: "Trump isn't a Democrat or a Republican. He's a freewheeling, transactional pol who looks for wins."
That was one view of the president wrapping up raising the debt ceiling, funding the government and paying out Hurricane Harvey relief in one bill. But others took a very different view.
"Trump isn't an independent. He's the racist wing of the GOP winning the internal struggle against the anti-government wing," ThinkProgress' Ian Millhiser wrote.
"I am absolutely baffled by the media giving POTUS credit for a pivot when all he did was escape September without legislative carnage," Sen. Brian Schatz (D-Hawaii) tweeted.
Zeynep Tufekci, a professor at the University of North Carolina at Chapel Hill, tweeted, "Journos pushing the 'Trump pivoted/is independent' line because they're more interested in creating narrative ... than news."
There will be further opportunities to frame Trump as extremist or independent this week. Trump is expected to perform a traditional role of surveying damage from Hurricane Irma in Florida. He's also considering pulling out of a trade deal with South Korea — which would further buck Republicans.
But the fallout from announcing the end of Deferred Action for Childhood Arrivals program continues. Trump was criticized for cutting funding for a program that helps with Affordable Care Act enrollment. And Trump is meeting with Sen. Tim Scott (R-S.C.), the only black Republican in the Senate, to discuss his response to the attack in Charlottesville, Virginia.
And this framing is far from new. In August, Trump was praised as presidential after giving a speech about sending more troops to Afghanistan. Then, the same week, he reprised all his greatest attacks at a rally in Phoenix.
There are a few reasons why you should care that this debate is taking place.
Trump may find a way to play the "independent" narrative to his advantage. It paints him as the victor over his Republican colleagues. It shows some people will pass quick judgments on his decisions, while others will not move beyond his past actions. And it means more focus on Trump's style and less on the substance of his governance.
What do you think? Is Trump an independent? A conservative? Or something else? Email us your thoughts at trumpsamerica@mic.com.
And get our daily read on Trump's America every weekday by subscribing here.
This week in Trump's America:
Trump's deal with Democrats may have strengthened House Speaker Paul Ryan's standing among most House Republicans. Meanwhile, former White House chief strategist Steve Bannon is plotting primaries against moderate Republicans, Politico reported.
The United Nations Security Council on Monday will consider a watered down sanctions package against North Korea. The original proposal would have instituted an oil embargo and travel ban on Kim Jong Un. The current version relaxes restrictions on oil and gas, but keeps a ban on textile exports. And the White House is preparing an array of military options against North Korea.
In her first TV interview since November's presidential election loss, Hillary Clinton said she will not run for office again.
In his first-ever TV interview, Bannon explained his fealty to Trump, how he'll pressure Republicans and why the sexual assault tape was key to the campaign.
In Portland, Oregon, a group of white nationalists were met by far-left anti-fascist counterprotesters. Some violence erupted and seven people were arrested. The police reported having projectiles thrown at them by antifa.
Sen. John McCain (R-Ariz.) said DACA recipients deserve a pathway to citizenship. That came as protesters nationwide called on Congress to save the program. Here's one example from New York City.
Here's some context worth knowing on how the U.S. program that insures people against floods became so weak. Expect another federal bailout package for victims of Hurricane Irma, though damage will likely not be as high as Hurricane Harvey.
Today's MicBite:
Mic's Aaron Morrison went inside the #Cville2DC March Against White Supremacy. Find out what he learned by tapping or clicking the video below.