"You deserve medals": Marriott guest praises the chain's generosity during Hurricane Irma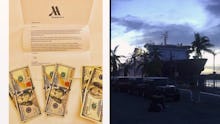 As the Caribbean recovers from Hurricane Irma and prepares for Hurricane Jose, travel companies are pulling out all the stops to support affected communities in the U.S. Virgin Islands. Hurricane Irma has devastated many of the small islands in the Caribbean and has killed at least 34 people, the Guardian reported.
The Marriott group, which has 12 hotels in the Caribbean, allegedly helped guests evacuate Frenchman's Reef & Morning Star Marriott Beach Resort in St. Thomas after Hurricane Irma hit last week. On Sunday, Instagram user @yinzergirl posted this heartfelt thank you to the Marriott team for taking care of her and other hurricane victims in St. Thomas. The photo shows a letter from Tim Sheldon, president of Caribbean and Latin America for Marriott International.
"This morning when I was taking a shower, a wave of appreciation overcame me and I shed a couple tears of happiness and was completely humbled," she wrote in the Instagram caption, explaining that the staff kept her "safe and informed, providing meals and water for us and also those who weren't as prepared as we were." She noted that the hotel served as a shelter for many on St. Thomas who had lost homes.
Plus, she was floored by the staffers' commitment to hospitality:
Most of the staff live on the island and selflessly gave their service with a smile and I couldn't and still can't say "thank you" enough times. They volunteered their own cars when we convoyed through treacherous conditions to get to a port to ferry us here to San Juan at night. Marriott paid privately half a million dollars just to get us on that ferry, and as if that wasn't enough, to keep everyone's spirits high, they fed us delicious food, provided a magician, a band, hot tea and coffee all throughout. When we got to our port in San Juan, we were greeted by Marriott workers who clapped and cheered and I was embarrassed by the level of kindness and felt undeserving.
According to the Instagram post, hotel staffers greeted the boat and whisked people back to the resort at 3 a.m.
"They gave us free drinks and $200 per person because we all have to find new ways to get home," she wrote. "I'll tell you what, I will never, ever stay at another hotel [brand] again in my life... You deserve medals."
After a viral video showed that the ferry evacuating hotel guests from St. Thomas had turned away non-Marriott passengers, Fox News 19, a Cincinnati news outlet, reported that Marriott employees did not have authorization to board additional travelers who were gathered at the dock.
Several cruise companies have also been working to move people off islands affected by recent storms. Royal Caribbean sent two ships to the Caribbean that have a combined passenger capacity of 6,600, Fortune reported. The cruise line also sent ships to evacuate people in Key West, Florida, and Tampa, Florida. Norwegian Cruise Line is also evacuating stranded cruisers who are in Miami, USA Today reported. The new ship that will evacuate thousands is aptly named Norwegian Escape.
Sept. 12, 2017, 10:50 a.m.: This story has been updated.