'Fox & Friends' host asks guest if 9/11 memorial will be taken down like Confederate monuments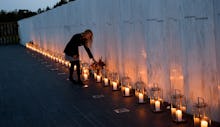 Monday marked the 16th anniversary of the terrorist attacks on Sept. 11, 2001 — and Fox News was quick to tie the somber occasion to today's political controversies.
In a segment with Secretary of the Interior Ryan Zinke on Fox & Friends Monday discussing the Flight 93 National Memorial near Shanksville, Pennsylvania, host Brian Kilmeade equated the memorial with the Confederate monuments that have come under new scrutiny since the "Unite the Right" rally in Charlottesville, Virginia.
"Do you worry 100 years from now someone's going to try to take that memorial down like they're trying to remake our memorials today?" Kilmeade asked Zinke about the Shanksville monument.
"Well I'm one that believes that you know we should learn from history," Zinke replied. "And I think our monuments are part of our country's history. We can learn from it."
"Since we don't put up statues of Jesus, everyone's going to fall morally short. And I think reflecting on our history, both good and bad, is a powerful statement and part of our DNA," Zinke continued.
Many have objected to the numerous Confederate monuments found across the United States due to their associations with white supremacy and glorification of the Confederacy's pro-slavery position during the Civil War. Many of the monuments were erected during the Jim Crow era and during the early 20th century, coinciding with a surge in membership for the Ku Klux Klan.
The Flight 93 National Memorial, on the other hand, does not have a controversial and racially charged history. The memorial, the first features of which opened in 2011, honors the passengers and crew who were killed on Sept. 11 onboard United Flight 93. Though the plane crashed into a field in Somerset County, Pennsylvania, those onboard thwarted the terrorists' plans, making the plane the only one on Sept. 11 that did not reach the terrorists' intended target.