Emotions are mixed as Florida residents assess Hurricane Irma damage, returning home and to work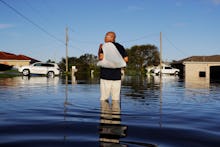 By Monday morning, with Hurricane Irma making its way up the East Coast and out of Florida, David Doran was out in the streets of his Naples neighborhood in his F-250 pickup truck — surveying the damage. Many neighbors and friends had evacuated, he said, including his wife and two daughters, and some who had made it out asked the 50-year-old building contractor if he could check on their homes.
"There are trees the size of houses blocking the road," he said in a phone interview. But "I consider this the best case scenario ... The landscaping damage is far more extensive than the structural damages."
At 135 mph, some of the strongest wind gusts in the state blew through Naples, according to ABC. Doran said about half of his neighbors decided to wait Irma out in Naples, and of those that left, few were in a rush to return. When he spoke to Mic Monday, he estimated that he had been without power for close to 48 hours. Doran was not alone: As of Tuesday morning, local media reports showed about five million homes were still without power.
"My guess is it'll be a full week until we can get back to work," Doran said. "People don't want to rush back."
But other Florida residents who spoke to Mic said that they expected daily life to get back to normal sooner rather than later. Thanks to a last-minute shift to the West, some of Florida's large eastern cities including Miami and West Palm Beach were spared from the worst of the storm, though the destruction in the Florida Keys was devastating. As of Tuesday morning most of the Keys remains without power, water or cell service, with no sign on when they may be able to return: NPR reports that even those who weathered the storm in the Keys successfully will still need to be evacuated.
Residents in Eastern Florida told Mic they were hopeful. Amy McGraw, a Weston-based marketer, said her two daughters were expected back to work at their local Publix supermarket by 2 p.m. Monday. Larry Marble, owner of the Pirates Well Bar and Grill in Royal Palm Beach and Lake Park said that both locations would be open today. Though the Lake Park location was still without power, he said, they still planned to open with the grill.
Though the storm was long and slow, residents said, social media helped evacuees keep in touch with friends back home, and helped those who stayed behind remain organized and find supplies. Here's what residents described the morning after the storm.
The worst of the storm: Cuba and the Florida Keys
Some of the worst damage from the storm — and the first places Hurricane Irma made landfall after ravaging the Caribbean — was in Cuba and the Florida Keys. According to the Miami Herald, 10 people died in Cuba in the wake of the storm, and several are reported dead in Florida, including the Keys, according to ABC. Officials say the highway to the Florida Keys, Route 1, is still largely impassable as of Monday afternoon.
"Thank God a lot of people evacuated the Keys," Florida Highway Patrol Spokesman Joe Sanchez told the Herald. "At this time I don't have the faintest idea when they're going to open the roadway."
In the Florida Keys, homes were completely destroyed, as documented by National Geographic photographer Mike Theiss.
In Miami, residents who had been ordered to evacuate to shelters were allowed to come home starting Monday morning, said Rayma Rivers, a clerical worker who lives in a mobile home in Little Havana with her husband Denis Silva Garcia, a professor. Rivers said she expected to be back at work Tuesday, but was still worried about buying food: Though restaurants had started to open, she didn't know where she could buy groceries as of Monday.
"Most everything is closed," Rivers said. "I haven't seen any grocery stores, Walmart isn't opening ... We have water, but we have no lights."
Rivers and Garcia had to evacuate, they said, because they lived in a mobile home in the evacuation zone. They weathered the weekend at Carleton High School with about 1,100 other people, 700 more than were expected in what was already the largest evacuation order in the city's history. Miami-Dade schools chief Alberto Carvalho blamed confusion at shelters in part on the American Red Cross, which, he said, "didn't show up," according to a Miami Herald report.
"More bark than bite" in Miami
Residents of eastern Florida said they were surprised at the lack of destruction given the storm's length — Irma moved slowly across Florida, which made the storm seem long. Ironically, they said many of their friends who did evacuate left for parts of Western Florida where the storm was even worse.
"The thing that was most noticeable about the storm was the length. It was intense, intense wind and rain for a solid 30 hours. Normally, you only get that for a couple hours," said Andrew Tripodo, a friend of mine in Miami after his cell service returned late Monday afternoon. "[It was] more bark than bite."
"It definitely wasn't as bad as we were worried," said Summer Bendfelt, who weathered the storm in Jupiter, Florida, north of West Palm Beach. "I'm glad it was uneventful besides dealing with no power and... listening to the radio."
Martin Hine, a sales executive based in a Tampa Bay suburb called St. Petersburg, said that none of his neighbors saw much in the way of property damage, though the county did see some flooding. Still, the weather was mild enough, he said, for him to watch some of the storm outdoors.
"We were actually able to find a safe spot and actually sit outside and watch some of it," Hines said, commenting on how many neighbors were already beginning to make repairs. "It was a good way to get to know everybody's neighbors. Everybody's got a rake or a chainsaw now."
"I'm just lucky, and very, very grateful it shifted west, which meant the East Coast was spared," said Anick Thomas, a single mom and banking employee who said her West Palm Beach community lost power for about 8 hours. "But I have friends and co-workers across the state. So we need whatever help people can give to those people."
Given the current lack of flood insurance coverage for many Florida homeowners, less fortunate people may need a great deal of assistance: Total costs for the storm will likely fall between $64 billion and $92 billion, according to Moody's Analytics, with the total cost of recovering from Irma and Harvey coming in close to $200 billion.
To figure out how you can get involved in hurricane recovery efforts, here is one guide on how to vet local charities and relief groups, and another focused on Irma relief.