The best looks at DragCon weren't from the 'Drag Race' queens — they came from the attendees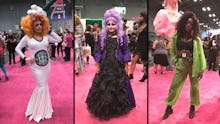 NEW YORK — On Saturday and Sunday, more than 35,000 people flocked to the Jacob K. Javits Center for the first ever RuPaul's DragCon NYC — and it was a total madhouse.
A runway, pop-up stores, meet-and-greet booths with former RuPaul's Drag Race contestants, an exhibit of RuPaul's own gowns and a giant, inflatable sculpture of President Donald Trump as a rat coexisted side-by-side in one massive, energetic convention space.
Of course, the main reason fans flocked to DragCon was to get some face time with the drag queens they've idolized on Drag Race for years — Sasha Velour, Detox, BeBe Zahara Benet, Trixie Mattel, Peppermint, Thorgy Thor, Ongina, Kim Chi and Bob the Drag Queen were just a few of those who showed — but the real, unexpected magic of DragCon didn't require fans to wait in lines at all.
Despite the massive crowds, hundreds of fans showed up in full-on drag themselves. Mixed in with the everyday folks wearing jeans and T-shirts were queens in elegant gowns, sky-high heels and cosplay that wouldn't look out of place at Comic-Con. Some were simply fans of the show who scrounged together looks from whatever materials they had available, and others were working queens who commuted in from across the country, towing their glamorous wardrobes along for the ride.
All weekend, I stopped to snap pictures of whoever caught my eye, and, along the way, I managed to chat with a few about their looks — including a 12-year-old from Toronto in a stunning Victorian gown.
The following interviews have been edited for clarity and length.
Anthony, aka @antman808 — as Hela from Thor: Ragnarok
Mic: Tell me about this look. How long did it take to make? What is it made of?
Anthony: Overall it took about two and a half months to make. The headpiece is made with foam wrapped with papier-mache and acrylic paint and the rest is a dancer's bodysuit marked with acrylic paint.
What brings you to DragCon today?
A: It's all about the freedom to be yourself. I try to live my best self every day. As long as it's not bad or illegal or harming someone, be yourself and do it.
What advice would you give to someone who is looking to get into the drag and cosplay world?
A: I started drawing with stick figures and I'm not a masterful artist — but I always tell everyone just take a chance, you never know unless you try it. Drawing on napkins always helps. Once you see it on paper you can craft it yourself.
Yoav, aka UniKittie
Tell me about this fabulous dress.
UniKittie: There was a fundraiser that the [Stephen Lewis Foundation] was doing … if you raised enough money, you'd be able to go on a runway and they would make you an outfit. So, I raised a lot of money by doing a drag transformation online and then I designed this Victorian-esque outfit.
What does drag mean to you? Why is it important?
U: I've never liked going by the rules of gender and gender orientation, so when I was little I grew my hair really long — it's still really long — I got my ears pierced and I tried to get as far away as the normal man could be. So, when I was introduced to drag, I finally found myself a place where I could be both male and female and be together as one. Last year in school was much harder [than this year] because I went to school in drag once and I was called "Donald Trump's ugly mother," "Rob Ford's dead sister…"
(Editor's note: At this point, a passerby called UniKittie's look "gorgeous." UniKittie's mom said, "She's only 12 years old! I want them to know that. I think they think you're much older.")
U: I was teased for doing drag and being different. But this year, now that I'm in grade eight, a lot of my friends are more accepting and I can be who I am at school. I'm even going to my graduation in drag, so I think the school has warmed up to me a little bit.
"Now that I'm in grade eight, a lot of my friends are more accepting and I can be who I am at school."
Did you do your makeup yourself?
U: I have a drag mentor, and slowly but surely they're teaching me. Right now I've learned how to do eyeshadow and mascara and eyeliner properly, and I've done a bit of the lips, but I haven't done eyebrows or contouring yet — and I guess that's probably the most important part.
What does being here at DragCon mean to you today, especially given the state of our current political climate?
U: With the president that America has now, it's incredible to see this kind of event happen. Because, you have the White House and all of the politics that are happening there that discriminate against minorities. So, this is kind of one of the biggest places you could be to say, "This is who I am and this is why we need to be more accepted in the world."
Ryan
Neon Calypso
What are your aesthetic inspirations?
Neon Calypso: I'm the hip-hop girl. I love staying true to my '90s, hip-hop silhouettes, fashions, the fabrics, the attitude — it's just very me. I could care less about the diamonds and the stones. I'm all about being comfortable, being casual, having a statement in your clothes.
How long did it take you to get ready this morning?
NC: I generally do a standard, base face with a cat eye — if you look at Sasha [Velour], she has a face, Katya [Zamolodchikova] has a face — so I do my base face, and if I do anything extravagant, I add on top of that. So, it takes me about 35 to 45 minutes to get my general look down and then I'm good.
What does being here at DragCon mean to you?
NC: This event means community. We're in such a dark place in the real world, and to be able to be with a bunch of people that love you and represent who you are as a person is amazing. You know, coming here, I could not stop smiling. I'm going to leave and I'll be like, "So, when am I going to go back?"
Zane-X and Chemical-X
Zane, what's the inspiration behind this look?
Zane-X: I love that old-school pixelated-video-game look.
Did you play a lot of games growing up?
Z: Hells yeah. Old-school Nintendo 64, Sega, PlayStation, like Mortal Kombat, Mario, Sonic, all that shit.
How long did it take you to do your makeup?
Z: Two and a half hours.
What brings you to DragCon?
Z: I'm here because I love drag, I'm obsessed with it. It's like playing dress-up as a kid and now you can just come to a world where you're welcomed. This event is overwhelming with happiness.
"It's like playing dress-up as a kid and now you can just come to a world where you're welcomed."
What about you, Chemical-X? Tell me about your outfit.
Chemical-X: I basically went for, let's say, if It killed Georgie, took his coat off and was like, "I'm just gonna stunt in this, let's go."
How long before DragCon did you plan to wear this?
C: I bought the raincoat at Savers a while ago, and I was like, "I want to do a Georgie look," and then the It movie came out this weekend so I was like, "Why not?" Today's the day.
Who here stands out to you? Anyone in particular you've seen that amazed you?
Z: My boyfriend.
That's the right answer.
Malestia Child and Jenna
Robert aka @RBearKarito
What inspired this look today?
Robert: I'm a gayer version of Pyramid Head from Silent Hill.
How did you make the head piece?
R: This whole thing is made out of foam board and papier-mache. It took a couple of weeks to construct. I have about $500 of silk flowers on this and an anatomically correct Ken doll in the back, which is what I do most of my art with.
Can you tell me about the sword your carrying that says "silence = death"?
R: "Silence = death" was the motto of Act Up in the 1980s when the AIDS crisis was at its biggest. I believe in living a gay life unapologetically and authentically. So, be as big and loud and gay as you possibly can without apologizing. Flirt, fuck and offer cute guys to get under your helmet with you. That's what it's about.
Madama Nova
What is the inspiration behind this look?
MN: My aesthetic is very "Disney villain in the streets, dirty slut in the sheets." So, I need to look a little promiscuous but I always want to look very wicked. I'm known for my Ursula too. I'm feeling a little like Jafar today.
Do you always sport the beard?
MN: Oh yeah, yeah, I'm a bearded queen. I don't do drag without it.
Tell me about what it's like to be here at DragCon. What drew you here?
MN: As a fanboy, I am obsessed with the queens of Drag Race, but it's also just so fun to immerse yourself into the culture of it and see all these people come together. Now more than ever, we need this in the world because of who our president is. It's nice to see that we're still very alive and present and representing ourselves even in a time of doubt and fear.
Candy Perfume
Casey Yalater
What is going on here? Did you make this?
Casey Yalater: I made this. I'm a designer and drag queen. I did Pharrah Moan's look today and she's wearing me [on Sunday] too. My look today is all dyed zip ties. They're hand-dyed different rainbow colors.
How do you dye a zip tie?
CY: You can buy a poly dye and plastic absorbs it really well; you literally just hold it in for like two seconds and then pull it out. I like to use a lot of unusual, unique materials but I also like working with standard fabrics as well.
Tell me about why you're at DragCon today.
CY: I was actually supposed to go down to Miami for a fashion event this week, but the hurricane is coming. I was here working out of a studio for a couple of days trying to finish up stuff and I couldn't fly back down. So, I had done some looks for some queens and they gave me a pass. This was one of the pieces that was going to be in the collection down there so I just threw it on.
Alex Ata as "Lil' Poundcake" from RuPaul's Drag Race season five
Have you dressed up as Lil' Poundcake before, or is this your first time?
Alex Ata: I'm in a dodgeball league and we have a big party for Halloween and I did the Lil' Poundcake look there. We have a costume contest and I actually won.
How did you learn to do your makeup like this?
AA: In high school I did makeup for musicals and school plays and that's how I learned how to do the face and everything. And now, I just do a lot of YouTube tutorials. My gosh, YouTube is like the greatest thing ever.
What brings you to DragCon?
AA: For me, it's like gay church. Everyone is here, everyone is accepting, it's so fun. It's about seeing all the positivity that's here.
"It's like gay church. Everyone is here, everyone is accepting, it's so fun. It's about seeing all the positivity that's here."
Anthony, aka @apapnyc_
Did you design this outfit specifically for DragCon?
Anthony: I actually made this look originally for a Lady Gaga concert, and I was going through my looks and this is the one that's most embellished and dazzled, so I figured this would be the one for DragCon. I don't do drag, I'm more of a club kid, but I work with all the queens throughout New York. I choreograph, I dance, I'm all in that nightlife.
And did you make these individual pieces yourself?
A: This [jacket] piece is from a designer in Japan. I was on tour there and I found it, and then I based everything else off of it. These shoes are actually from a different designer in Japan, and these are just tights. I made the face myself.
What kind of glitter did you use on your mouth and eyebrows? How did you apply it?
A: The glitter is just craft glitter — and I've tried a few different methods, but the best thing I've found that works is actually eyelash glue. I just do layers and then pat it on and then more layers and then some hairspray.
Can you eat with that on?
A: I definitely have to pull things apart and just use a straw.
Ophelia Hotass
Tell me about your look today.
Ophelia Hotass: I was really trying to think of something to do for DragCon and it was coming down to the wire. So, on Wednesday of this week, I thought, "Hey, it's pumpkin spice season, so why not be a giant Starbucks cup with some orange hair for pumpkin spice?" Because, you know, I'm a good ol' basic bitch and I love me some Starbucks and I knew that I could pull this together in a day.
So, you made this all yourself?
OH: I made everything top to bottom. I taught myself to sew by watching YouTube videos. I did a competition in Philadelphia called Drag Wars, which is like Drag Race but for the local queens. I got top three and I taught myself to sew during that process. I would attempt things, keep practicing, watch YouTube videos and it became something that I really, really enjoyed. So, now I make all my own costumes. It's therapeutic almost, it just makes me feel good.
Gassy Bordeaux and Anne G. O'Plasty
Tell me about this incredible flower orb thing.
Gassy Bordeaux: I worked a wedding recently — I manage a restaurant — and they had these flowers all over the place, and I asked the grooms if I could steal two of them. So, these flowers were kind of the inspiration behind the look. I imagined this as a character out of a fantasy bowling video game.
Are your looks always a similar style?
GB: Usually, I come up with a story and then I base my look off of the story. So, aesthetically, it's always different. I love a dark lip, so generally I always have that — and, I love the "Oh, my husband died, but the inheritance" sort of look. It's usually based on a concept, and today, this [flower orb] was the inspiration. I like whimsical but dark at the same time. I've made a stuffed lamb into a drink shaker before. It was great.
And what about you, Anne?
Anne G. O'Plasty: I belong to a radical fairy group, and every year we get together in the hills of Virginia — there are 50 of us — and this year's theme was the future. You had to do a dystopian look one night and a utopian. This was my utopian look.
What is all this made of?
AO: So, it's a bathroom caddy [around the middle], and then the shoulder piece is a repurposed table runner.
Do you always use everyday materials like that?
AO: I'm a crafty queen. I've worn a parachute on stage. I made a dress out of license plates once. I mean, I'm a big girl, so to find clothes that fit me that are modern and not something my great aunt would wear means that I have to modify nearly everything I buy, which is fine. Like, part of drag is seeing something and seeing something more in it, and giving yourself the opportunity to push yourself.