Pope Francis: Trump can't end DACA and consider himself "pro-life"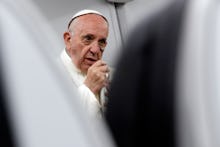 Pope Francis urged President Donald Trump to reconsider his decision to end Deferred Action for Childhood Arrivals, saying that ending the program is not something a "pro-life" advocate would do.
"The president of the United States presents himself as pro-life and if he is a good pro-lifer, he understands that family is the cradle of life and its unity must be protected," Francis told reporters at a Sunday news conference aboard the papal plane, CNN reported.
The pope went on to say that he is "hopeful" the decision to end DACA — which allows undocumented immigrants who were brought to the U.S. as minors to live and work in the U.S. — "will be rethought."
Pope Francis also issued a harsh warning to those who reject mainstream climate science, saying "history will judge those decisions."
"If we don't go back, we will go down," Francis said, a warning of the dire consequences that climate denial could bring.
Trump and his Cabinet officials have refused to answer questions about climate change in the wake Hurricanes Harvey and Irma, powerful storms that wreaked havoc in Texas and Florida.
Francis has been a vocal critic of the president on numerous occasions in the past.
During the campaign, Francis said Trump was "not Christian" because of his desire to build a wall along the U.S.-Mexico border.
"A person who thinks only about building walls, wherever they may be, and not of building bridges, is not Christian," Francis said in February 2016. "This is not the gospel."
Trump went on to call Francis a "pawn" of the Mexican government, adding that the pope's questioning of his faith was "disgraceful."
The two later met at the Vatican after Trump was inaugurated.