Here's what's really behind the "looter" narrative during natural disasters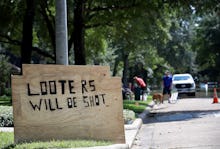 As Hurricane Irma charted a crash course through Florida, downing cell phone service for large swaths of the state and knocking out power grids in its wake, plenty of media coverage has centered around one narrative in particular: the supposed scourge of "looters" taking advantage of shuttered storefronts in the midst of the chaos.
On Sunday, CBS News reported that the Fort Lauderdale police had arrested nine people after TV cameras captured them raiding a sporting goods store and a pawn shop as the storm raged. On Monday, the Broward Sheriff's Office posted a foreboding message to Twitter warning any would-be looters that they would be prosecuted swiftly if caught.
Reports of ramped-up criminal activity in evacuation zones dominated much of the media coverage of Hurricane Harvey in Texas as well. At one point, ABC News anchor Tom Llamas found himself on the receiving end of Twitter's ire after he announced he had "informed police" of looting taking place at a Houston-area supermarket.
But according to experts, incidences of looting have not been as prevalent as the media might be leading some to believe.
Citing the Houston Police Department, Snopes reported that "very little looting occurred during the first week of flooding in the wake of Hurricane Harvey," despite widespread coverage of the incidents that did occur.
"Looting is almost nonexistent in Houston," a department spokesperson told Snopes. "People have been cooperative not just with each other, but also with Houston PD. The weather is at its worst but Houstonians are at their best."
The race and class implications of reporting on "looting"
The overblown looting coverage points to a large and well-documented trend in racial bias in reporting on crime in the wake of natural disasters, as retired Army Lt. Gen. Russel L. Honore, who helped to manage the military response to Hurricane Katrina in 2005, told the Washington Post.
"People think that if you're poor or black you're always trying to steal something," Honore said. "These warnings about looting validate the stereotypes that people hold about poor people."
The bias Honore was referring to is best exemplified by a pair of screen grabs tweeted out by Boston Globe reporter Astead W. Herndon, which compares media descriptions of black people "looting" and white people "finding" sustenance in the wake of Katrina.
In those instances, Honore told the Post, "That's not looting; that's survival mode."
But while the use of "looting" over "finding" points to implicitly held beliefs about race and class, those bias can also be far less subtly employed.
During his Aug. 29 show, conspiracy theorist and Infowars host Alex Jones said of reports he had seen on the looting:
"It's got the racist black gangs there saying, 'Look at what we looted, look at what we got.' They're putting it on Twitter, 'We're robbing the white folks, they deserve it.' And then of course there's black folks helping white folks and white folks helping black folks. It's a very small minority of scum that's doing this. But can you imagine if there were white people robbing black neighborhoods right now? And you know, I'm sure I bet some of that actually goes on."
Narratives of increased looting in the wake of environmental disasters are always inextricably linked to race and class, much in the same way that the storms themselves disproportionately impact the same poor and marginalized communities those narratives set in their crosshairs.
While Llamas, for one, has since "cleared up" his tweet announcing that he had tipped off the police to the existence of looters, some right-wing pundits have only doubled down on their sensationalized reports.
Fox News' Tucker Carlson devoted an entire segment of his Aug. 30 show to reports of looting in the wake of Harvey.
"What kind of like certifiable savage man-beast do you need to be to walk into a small business [and loot]?" his guest, former Secret Service agent and Republican congressional candidate Dan Bongino, said.
As climate change continues to beget more and more extreme weather patterns, it's more important than ever that the media acknowledges its role in perpetuating false crime narratives.