Jordyn Woods knows designers are scared of models like her, and she's ready to prove them wrong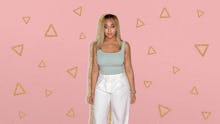 Jordyn Woods's plans for fashion industry dominance come down to an easy, three-step process.
"I just want to be the girl who came in, really gave no fucks and did my thing and helped make a difference and helped people feel confident," Woods said in an interview with Mic. "Just the girl that really didn't care, came in and killed it."
That's a pretty good goal to have, and one that's more and more possible because of just how many eyes are on Woods this New York Fashion Week.
For one, she's on TV almost weekly, appearing often in her best friend Kylie Jenner's show Life of Kylie on E!. She's snagging more spreads in magazines, like Paper, Slink and Schon, and she's debuting her first clothing collection with Addition Elle at its show Monday, an event that will draw in people like Ashley Graham, Gabourey Sidibe, Danielle Brooks, countless top curve models and bloggers, and, oh yeah, probably some attention from Wood's 3.6 million Instagram followers, too.
According to Roslyn Griner, Addition Elle's vice president of marketing, Woods was alluring because she's young, just 19 years old, and can completely dismiss plus-size clothing's reputation that it's only for older, unfashionable women.
"You need to have role models that will appeal and take away the stigma of plus size, and Jordyn is perfect," Griner said in an interview. "Jordyn has her own taste level. She's got this cool, and she's mature yet young. I love these girls that are unexpected."
Woods revealed that she was more than happy to lend her own personal style to Addition Elle, a company that she's been working with since the beginning of her career.
"I remember at my first shoot, I was like, I love the quality of their clothing," Woods said. "They do a good job creating clothing for curvy women, so when they asked me to collaborate, I was like 'Yes, of course.'"
Her collection, which Mic got to preview before the show, includes urban pieces like a denim jacket that looks like it's been marked up with graffiti, a kimono with embroidery, graphic denim jeans, a more military-inspired denim jacket and more.
"I wanted to make something that's me, and trendy and cool," Woods said. "The denim jacket, for instance, is oversized and cut cool and has a cool design, and I feel like there's not a lot of trendy plus-size, oversized things out there."
In designing her own plus-size collection, with Addition Elle's sizing starting at a 12, she joins other curve and plus-size women like Ashley Graham, Rebel Wilson, Gabi Gregg, Nicolette Mason and others who have turned into designers to show others exactly what plus-size fashion has been missing.
"It makes total sense," Woods said. "I think it's because we know how we like to wear our clothes. It only makes sense for a curvy person to design curvy clothes, because we know exactly what we like."
In addition to Addition Elle's show, which Woods is walking in, she also had the pleasure of walking in the Chromat show Friday, which was as diverse as they come, with curve models and plus-size models and older models and trans models. That experience, for Woods, was what she'd described as "sick."
"It was sick because I didn't know what the casting was when I showed up, and just seeing everyone there and excited to be there," Woods said. "The energy — it was such a good experience, and it was so much fun."
Shows like Addition Elle and Chromat are in the minority at NYFW though. They're taking both size diversity and racial diversity seriously, casting an array of models, so what does Woods think of the designers who are still hesitant of models like her?
"I think people are scared to take the risk, just because they don't know how it's going to turn out," Woods said. "But that's what fashion is. Fashion is taking risks and sometimes it works, but I can almost guarantee you that it would not be a failure if they tried."
Among the brands that haven't shown a bit of interest in embracing models above a size six, or even four, are some of the most well-known worldwide. Your Chanels and your Pradas and your Louis Vuittons and your Calvin Kleins, to name a few. And that bums Woods out.
"The thing is, they're scared. I feel like they don't know what it's going to do to their brands," Woods said. "They also, I wouldn't say they're lazy because they're very detailed with their design, but it's just like they don't feel like it's important. When are they going to realize that maybe it is important to be size inclusive and to provide something for all types of people? One day they're going to realize the value."
It'll be one day soon, if Woods keeps on killing it the way she is now.