Car appears to drive through crowd of counterprotesters at Vancouver, Washington far-right rally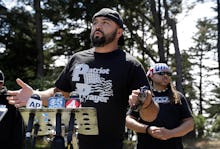 Headlines in August were dominated by the violence in Charlottesville, Virginia, as a white supremacist drove his car into a crowd of anti-racist demonstrators — a similar incident Sunday in Washington state has received much less attention.
Two people have been arrested after apparently driving through a crowd of counterprotesters Sunday in Vancouver, Washington following a rally held by far-right group Patriot Prayer, the Guardian reported.
The car, which the Guardian notes reported was decorated with a Confederate flag decal and American flags, reversed toward counterprotesters while playing the Confederate battle song "Dixie" on an airhorn, video of the incident shows.
A motorcyclist leaving the Patriot Prayer rally was also arrested Sunday, the Guardian reported, after disembarking his motorcycle and charging toward the anti-fascist counterprotesters.
In addition to the first vehicle and motorcyclist, a second truck was seen veering toward counterprotesters as the truck's four passengers threw objects at them from the vehicle. When objects were thrown back at the vehicle, the truck apparently "revved up" and drove and reversed down streets at 40 miles per hour. The truck reportedly also sported a Confederate flag decal, and one occupant wore a Donald Trump hat, the Guardian reported.
There were no injuries or casualties from the incident, which come less than a month after Heather Heyer was killed by white supremacist protester James Alex Fields Jr. in Charlottesville in a similar fashion as Sunday's attempted attack.
The attempted violence reflects the ongoing commitment by members of the so-called "alt-right" to target anti-facist protesters, though the smaller scale of the Vancouver rally and lack of injuries mean the Vancouver attack has not received the same level of attention as the fatal Charlottesville attack.
The Patriot Prayer rally was relocated to Vancouver on Saturday after initially being planned to take place in Portland, Oregon, KGW reported. Some members of the conservative group did gather in Portland prior to the Vancouver protest, however, where they were outnumbered 40-to-1 by anti-racist counterprotesters. Seven people were arrested during the Portland protests.
Patriot Prayer, led by Joey Gibson, is a right-wing "anti-government" group that has traditionally attracted members of white supremacy groups, according to the Southern Poverty Law Center. The group has held a series of rallies in traditionally "liberal," left-leaning cities, the SPLC noted, "all with the clear intent of attempting to provoke a violent response from far-left antifascists."
"As you know in Vancouver, [police] don't mess around. This is a way for us to continue to be peaceful," Gibson said in a Facebook video announcing the location change.
"If antifa wants to come over, it's going to be a problem for them."