More senators plan to co-sponsor Bernie Sanders' Medicare-for-all bill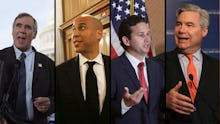 One-by-one Democratic senators are lining up to endorse a health care plan that party leaders said would be unworkable less than one year ago.
Sen. Bernie Sanders (I-Vt.) is expected to unveil on Wednesday a much-anticipated Medicare-for-all bill that will shape the future position of the Democratic Party on health care reform.
On Monday, Sens. Cory Booker (D-N.J.) and Jeff Merkley (D-Ore.) both announced plans to co-sponsor the bill, which would likely expand the Medicare program to include all U.S. citizens. Two days earlier, Sen. Sheldon Whitehouse (D-R.I.) told a local station his same intentions, a plan that a representative for Whitehouse echoed to Mic.
A representative for Brian Schatz (D-Hawaii) confirmed to Mic that he will also co-sponsor the bill.
The four senators join Sen. Kamala Harris (D-Calif.) who announced her intention to co-sponsor the bill last month, and Democratic Massachusetts Sens. Elizabeth Warren and Ed Markey who made public their plans to do the same last week.
Over the weekend, Vermont Public Radio reported that Sen. Patrick Leahy is "likely to support" the bill but stopped short of saying whether he will be a co-sponsor.
Legislative support for a Medicare-for-all system has come a long way in the relatively short period since the November presidential election. During her 2016 presidential campaign, Hillary Clinton argued the Medicare-for-all type system was costly, unworkable and would undermine support for improving the Affordable Care Act.
Yet now, support for a single-payer system has become something of a litmus test for potential Democratic 2020 hopefuls, most of whom endorsed Clinton's candidacy in 2016.
Activists associated with the movement that supported Sanders' presidential primary run have already taken credit for helping shift the political discourse on health care.
After Harris' support was made public, one high-profile Sanders supporter called it a "clear example" of how grassroots activism was pushing the party.
Wednesday's announcement will likely serve as the first major cattle call by progressive activists in the party base to start vetting 2020 contenders.