What the world needs now is Chromat, sweet Chromat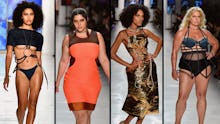 Season after season, Chromat has been the one show at New York Fashion Week that tells all the other shows what's up when it comes to including models of various ages, identities, sizes and shapes.
The first model who walked the runway on Friday was Leyna Bloom, a transgender model and activist. The one who shut it all down closing the show was Maya Monés, herself a trans woman, who sashayed down the runway to audible screams of excitement from the crowd.
In between those two were models of various sizes, from Denise Bidot to Hunter McGrady to Sabina Karlsson to Lauren Chan to newbie Jordyn Woods and more.
It didn't stop there. There was trans artist Jahmal Golden and trans runway vet Carmen Carrera. Then we were graced with the presence of legends like Emme, a plus-size supermodel from the '90s, and Geena Rocero, a trans supermodel and star of Logo's new Made To Model: Trans Beauty in Fashion.
There has never been a show like it, and we suggest that in the dwindling hours of NYFW, there won't be one similar to it this NYFW either. For Chromat designer Becca McCharen-Tran, bringing in these models was nothing new, but merely an attempt to continue the themes set out in her show in February.
"Following our AW17: Buoyancy collection­ — which was all about survival and keeping our head above water during the political upheaval — we felt the urge to cling to rocks," McCharen-Tran said in an interview following the show, "to feel grounded, to practice self-care and collective care of our community. We looked at zen gardens, salt baths and healing crystals. As the grounding rocks have gone deeper underground, our energy has begun to heat up and become liquefied, molten. We feel a volcanic energy right now; things are about to burst, but new land is forming. It's a chaotic, exciting time."
What remains striking about Chromat's casting is that although it's clear that diversity is important to McCharen-Tran and her team, there is never any kind of tokenization of these models. They are merely all people, and McCharen-Tran is trying to amplify their voices and boost their careers, for the sake of better fashion.
"Diversity on the runway is important because we recognize the power of visibility — to see someone who looks like you represented on the runway and celebrated as beautiful has a powerful impact," McCharen-Tran said. "For each runway show, we want to utilize our platform to celebrate and amplify the amazing women, femmes and gender-nonconforming people inspiring our world."
We'd say it's time for not just Chromat to take this level of diversity and inclusion seriously, but others too.