Sen. Kirsten Gillibrand will co-sponsor Bernie Sanders' Medicare-for-all bill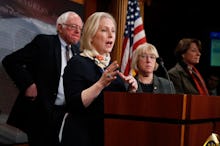 Democratic Sen. Kirsten Gillibrand intends to co-sponsor Sen. Bernie Sanders' (I-Vt.) Medicare-for-all bill, according to multiple sources with knowledge of the bill.
Gillibrand has been open about her support for a single-payer system at several recent town halls across New York.
The New York senator joins at least seven other senators who have recently announced their intention to co-sponsor the legislation. A source told Mic that Gillibrand has supported the legislation for some time now and intends to officially announce her support soon.
On Wednesday, Sanders plans to roll out the much-anticipated bill, alongside several co-sponsors.
Earlier on Monday, Sens. Cory Booker (D-N.J.) and Jeff Merkley (D-Ore.) both announced that they intended to co-sponsor the legislation.
Sen. Kamala Harris (D-Calif.) was the first Democratic senator to announce that she would co-sponsor the bill. She was followed by Sens. Elizabeth Warren (D-Mass.), Ed Markey (D-Mass.), Sheldon Whitehouse (D-R.I.) and Brian Schatz (D-Hawaii).
Legislative support for a Medicare-for-all or single-payer-style system has grown precipitously since the 2016 election, when Democratic presidential candidate Hillary Clinton dismissed the idea that a single-payer system would ever come to pass.
Sept. 11, 2017, 4:11 p.m.: This story has been updated.