Trans model Kayla Ward on why her new Asics campaign is more than just another job booked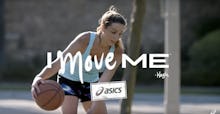 For transgender model and athlete Kayla Ward, her first campaign with the athletic company Asics is a full-circle moment.
Growing up, playing basketball and being on the court is what made Ward feel like herself.
The basketball court, she said in an email to Mic, "was the one place I could go and forget about feeling like I didn't belong and that there was something wrong with me. I knew when I was 5 that I was supposed to be a girl, but I didn't know how to tell anyone. I didn't have the internet to help me understand who I was. ... I thought about suicide all the time, except when I was on the court because basketball was my escape from reality; it saved my life."
Now Ward is on a basketball court, shooting hoops, for Asics.
The campaign, called "I Move Me," features Ward as is one of seven people the company tapped to help inspire people to live healthier, more active and happier lives.
"From a very young age I knew that I was transgender, that I was supposed to be a girl," Ward says in the campaign video. "Life is really what you make of it and to really get the most out of it, you have to love yourself. If you can love yourself, the world is yours."
The campaign "means much more to me than a job booked through my agency," Ward said. "This campaign is an opportunity for me to combine two things I am very passionate about: basketball and being a proud, transgender woman who is determined to inspire others to be authentic to who they are, to love life and to love themselves."
In being a part of a campaign for an athletics company, Ward joins people like Olympic triathlete Chris Mosier, who starred in a Nike campaign in 2016, and vogue legend Leiomy Maldonado, who starred in a Nike ad earlier this year.
Asics also reveals that Ward, who currently works for Grindr, is still trying out for the WNBA.
As for why she thinks this level of visibility is important right now, Ward said that given that transgender people are consumers like everyone else, why not?
"We are human, we are consumers, we participate in events and activities that everyone else does," Ward said. "Why can't we be brand ambassadors in major campaigns?"
You can watch Ward's video campaign below: