Hope Hicks has been named permanent White House communications director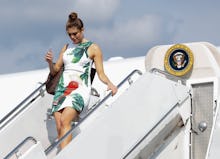 A White House spokesperson confirmed Tuesday that Hope Hicks has been promoted from her interim role as White House communications director to a permanent post in the position, according to CNN.
Her promotion officially fills the vacancy most recently left by Anthony Scaramucci, who was fired in disgrace in July after holding the position for just ten days.
According to a GQ profile, Hicks first entered President Donald Trump's orbit in 2012, two years after she completed her undergraduate education at Southern Methodist University. While working at New York City public relations firm Hiltzik Strategies, she was assigned to help promote Ivanka Trump's burgeoning fashion line.
It was in this role that Hicks would ingratiate herself to the future first family of the United States. In 2014, Hicks left Hiltzik Strategies to take a full-time position working for Trump, apparently unaware of his presidential ambitions.
Many have characterized Hicks as a battle-tested Trump loyalist who eschews the limelight and avoids the behind-the-scenes warring between rival factions of the president's White House. According to Politico, the president is so fond of Hicks' loyalty and disposition that he affectionately refers to her as "Hopester."
But though much has been written about how she forged her powerful bond with the president's family, little is known about what Hicks has accomplished in her years supporting Trump's political interests. Her aversion to the public eye draws a sharp contrast to Scaramucci, her predecessor, who was ousted from the post days after an explosive, expletive-ridden interview with the New Yorker.
Hicks served as press secretary for the Trump campaign. She most recently held the position of White House director of strategic communications.