GOP leaders are worried about primary threats. Here's why Republican strategists say they should be.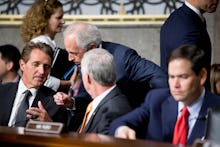 Welcome to Mic's daily read on Donald Trump's America. Want to receive this as a daily email in your inbox? Subscribe here.
Every day, we bring you a different dispatch on Trump's America. Today's focus: Republican primaries.
Tuesday's Dispatch: GOP leaders are worried about primary threats. Here's why Republican strategists think the party could be in trouble.
The Nevada primaries are not until the end of June 2018. In Arizona, they're nearly a year away. But that hasn't kept President Donald Trump's highest-profile supporters from setting up primary challenges.
Former White House chief strategist Steve Bannon is plotting primaries against senators he feels have not fully supported Trump's agenda, and Sens. Dean Heller (R-Nev.), Jeff Flake (R-Ariz.), Bob Corker (R-Tenn.) and Roger Wicker (R-Miss.) are all in the crosshairs.
In interviews with Mic, Republican strategists and political analysts were far from a consensus on what to expect from the primaries next year, if they even materialize.
But they did agree on a few things: Republican leaders are taking the threat seriously. The electorate's perceptions of GOP senators are skewed based on their perceived level of commitment to Trump, experts said, and that may lead to Republican voters dismissing senators with otherwise conservative credentials.
To Ivan Garcia-Hidalgo, chairman of the Hispanic Leadership Council who has led Hispanic outreach for GOP presidential candidates, any primaries on the Republican side in 2018 are shaping up to be a referendum for how hard Republicans fought for Trump's agenda.
"It's not an ideological election [like 2010]," Garcia-Hidalgo said. "This is about punishing those who did not keep their promise."
A strategist, who helped the GOP win control of the Senate in 2014 and asked to remain anonymous, added that the voting record of these incumbents — highly aligned with the president and conservative beliefs — is being ignored by some voters.
"[Sen.] Marco Rubio was seen as an insurgent who won the battle for a U.S. Senate seat in 2010," the strategist said. "Six years later, he's called a moderate. Is that because his ideology changed or because people perceived him that way?"
"It's a posture more than it is an ideology."
Some solace for incumbents: Since World War II, about 95% of incumbent senators who sought renomination have won their primary, said Kyle Kondik, managing editor of Sabato's Crystal Ball, a political analysis and prediction operation, at the University of Virginia.
And since the 1960s, Senate incumbents have fared well in running for re-election. Even in 2014, the year Republicans took control of the Senate, 82% of running incumbent senators were re-elected.
"[Senate Majority Leader Mitch] McConnell is wary of the outsider forces in the GOP and he doesn't want to have to grapple with some version of the House Freedom Caucus in the Senate," Kondik said.
In Alabama, McConnell's super PAC Senate Leadership Fund has already poured millions of dollars into preventing Roy Moore from beating Sen. Luther Strange, who was appointed to fill Attorney General Jeff Sessions' vacancy, in a special Senate election.
Rory Cooper, who was the communications director for former House Majority Leader Eric Cantor (R-Va.), said some conservatives have forgotten the challenges of being in the congressional minority. Primary challenges only increase the chances Republicans would lose control of Congress, he said.
"You can cut deals all day long with [Sen. Chuck] Schumer and [Rep. Nancy] Pelosi, but the 'resistance' isn't going to become your friend," said Cooper, now the managing director at GOP-firm Purple Strategies.
But historically, primaries have impacted incumbents to move to the political extremes, said Heather Cox Richardson, a Boston College professor who studies the Republican Party. "Primarying doesn't end up working because they end up running with lunatic candidates who end up losing," Richardson said.
"It has worked ideologically even though it hasn't worked practically."
Today's question: Is there dissatisfaction with some Republican senators because they truly oppose Trump's agenda? Or because they appear to? Email us your thoughts at trumpsamerica@mic.com.
Tuesday in Trump's America:
Earlier this year, some of Trump's lawyers suggested White House adviser and Trump son-in-law Jared Kushner step down over possible legal issues with the Russia investigation, the Wall Street Journal reported.
Hillary Clinton told USA Today she is convinced Russians had help from Trump associates.
Trump is bringing three moderate Democrats to the White House for dinner — to pitch them on his tax reform ideas.
After being battered by Hurricane Katia, Mexico rescinded its offer of aid to the United States.
Sen. Bernie Sanders (I-Vt.) will roll out his "Medicare-for-all" proposal on Wednesday. The bill now has a raft of Democratic co-sponsors in the Senate, including newly added Sen. Kirsten Gillibrand (D-N.Y.)
Trump's voter fraud panel is weighing whether voters should undergo the same background checks as gun owners.
In Vancouver, Washington, a far-right protester targeted antifa demonstrators with his car in an attempted attack.
Pope Francis: The president can't end DACA and call himself pro-life.
The official Twitter account of Sen. Ted Cruz (R-Texas), who once tried to prevent children in Texas from buying sex toys, briefly "liked" a porn video.
The United Nations passed a new round of sanctions on North Korea.
Today's MicBite:
Mic's video team offers a look at what parts of Florida looked like before and after Hurricane Irma. Tap or click the video below to watch.