Talenti gelato jars are so difficult to unscrew, people are using wrenches and knives to open them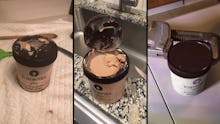 Talenti, the gelato that sells for $5.79 at Whole Foods, has a problem: Nobody can open the jars, and hundreds of people are flocking to social media to vent.
This reporter discovered the issue the hard way. I tried to open a fresh pint of Talenti on Monday night, and the lid wouldn't budge. My boyfriend, who is currently on a liquid diet and wanted gelato for dinner, couldn't get it either. I put on rubber gloves to twist the lid, but it still wouldn't open.
So of course, we decided to Google it, and what we found was overwhelming.
Virtually every reply on Talenti's Twitter account is a response to people who can't open their jars.
There seem to be hundreds of people complaining to the company on Twitter.
People are using knives, hammers, screwdrivers, scissors and wrenches to open it. There are Reddit threads and blog posts about it.
I sent Talenti a sad tweet of my own.
About 13 hours later, Talenti responded — and now we have an answer for why the jars are so tight.
The company blamed an overly forceful "new lid-capping machine."
Alexis, thank you for reaching out. We're sorry to hear that you've come across a pint with an over-tightened lid! We recently got a new lid-capping machine that's a bit too strong and hard to control. We know that tight lids are a concern for our consumers and we've fixed the machine so it won't over-tighten going forward, unfortunately there may still be some tight lids in the market. We appreciate you taking the time to reach out and let us know, and we've passed the information along to our quality assurance team.
Talenti also provided an official statement.
Our lid-capping machine experienced an issue that caused some lids to be particularly tight and we fixed the machine as soon as we found out about it. While there are still some tight lids out there, there will be fewer as new pints roll out. We apologize to our customers for this inconvenience and encourage them to contact our customer service team at talentigelato.com or 800-298-4020 if they have any concerns.
So there you have it. I'm proud to have blown the lid off this issue. Also, a tip: Reach out to Talenti and you might get some free gelato out of it. Assuming you can get the new one open.
Sept. 13, 2015, 10:00 a.m.: This story has been updated.