Average salary in US: Here's what the 2017 Census income report shows about pay by age, sex and race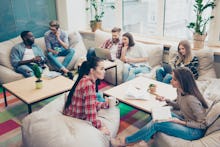 There's good news for U.S. workers: Real median household income grew to $59,039 in 2016, a 3.2% increase over the previous year, according to the Department of Commerce's latest Census figures released Tuesday.
This is the second consecutive annual increase in income, a sign that typically indicates a burgeoning economy, though department officials reiterated on a conference call that a change to the Census questionnaire in 2013 makes historical comparisons difficult. However, the report did detail other wins for American workers, particularly those under the age of 35.
Income for households headed by people aged 15 to 24 grew by nearly 14% to $41,655 in 2016, nearly three times the gains by the second-most successful age group — those 25 to 34, who saw a earnings bump of nearly 5% to $60,932. In 2016, the youngest cohort saw much more modest gains.
To be fair, that age group represents a particularly small number of households and comes with a larger margin of error, U.S. Census official Trudi Renwick said in a press call. But it's still large enough to suggest young people are having an easier time making money than in recent years.
In fact, one partial explanation for why U.S. wages have remained relatively flat for so long — despite a falling unemployment rate — is there are too many young and inexperienced workers desperate for employment. Typically the first to lose work in a recession and the last to get hired during a recovery, these millennials have been willing to accept rock-bottom pay, undercutting the efforts of more experienced workers. If the pool of hard-up young folks is finally drying up, that could spell better leverage for all wage earners.
"It is encouraging to see this number. We hope it's not a blip," Mary Coleman, senior vice president and COO at poverty think tank Economic Mobility Pathways, said in reference to the gig economy as one source of growing job opportunities. "[Young people] can drive Lyft or do any number of things to supplement their wages. So you could see it as the knowledge economy making space for strivers."
One especially helpful factor for workers lies in the uninsured rate, a measure of those who don't have health insurance through an exchange or their employer. With the number of insured people increasing in nearly 40 states, the rate decreased from 9.1% in 2015 to 8.8% in 2016.
Indeed, between 2013 and 2016, the uninsured rate fell for all individuals under the age of 65. The largest improvement can be seen in those between the ages of 21 and 28, whose uninsured rate fell by at least 11.5 percentage points.
Since they don't get sick as often as their older counterparts, young people having health coverage is particularly important to the overall insurance pool and helps keep the cost of premiums lower for everyone. That's one reason the ACA allowed young adults to stay on their parents' insurance until age 26.
Still, despite overall improvements in income and the rate of health coverage, racial gaps remained. Just 6.3% of white, non-Hispanic households were uninsured in 2016, compared to 10.5% of black households and 16% of Hispanic households. Further, white, non-Hispanic households saw a real median income of $65,041 in 2016, while black households earned just $39,490 and Hispanic households made $47,675. At $81,431, Asian households enjoyed the highest median income.
Another point of concern? Though U.S. income inequality hasn't continued to trend up — from 2015 to 2016, the report saw no significant change in the Gini co-efficient, a measure of income inequality — it hasn't ticked down from historical highs, either.
After all, very strong gains for the wealthiest households can obscure stagnant wages for those at the bottom of the income ladder. Evidence that may be happening? The real median income is roughly equal to where it was in 1999, a point economist Justin Wolfers made on Twitter: "For the American middle class, it hasn't just been a lost decade," Wolfers wrote. "It's pretty much a lost two decades."
Using an adjusted version of the new census data, the Economic Policy Institute estimates that the bottom 20% of earners have real incomes about 2.7% lower than in 2007 — while the highest-earning fifth saw gains of close to 9% over the same period.
Finally, while most groups saw earnings gains, there were still some disconcerting regional differences in the report. Significant location-driven disparities exist in terms of income, Coleman said, noting that while income grew by 3.9% and 3.3% in the South and West, respectively, the report deemed income growth in the Northeast and Midwest "statistically insignificant."
This trend suggests that economic inequality isn't being addressed evenly across the country, despite evidence of political consequences. "Relative deprivation and inequality is looming under these numbers," Coleman said. "There's trouble brewing in the Midwest in terms of some of the sectors not being able to give people the kind of lift they want."
Want to learn more about the 2016 report? Check out Mic's coverage of updates in the gender wage gap — and watch the full Census presentation below:
Sign up for the Payoff — your weekly crash course on how to live your best financial life.