Torrid debuts at NYFW with a diverse, size-inclusive show that felt anything but ordinary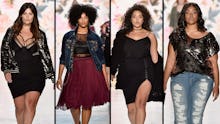 It may be heard to believe, but the first time a plus-size brand ever showed at New York Fashion Week was in just 2013, when Cabiria Style showed with a cast entirely made up of plus models.
At the time, it was groundbreaking, and ended up blazing a trail for other brands to follow in its footsteps. On Tuesday, plus-size brand Torrid did just that, hosting its first-ever fashion week presentation, amid shows like Gabriela Hearst and Naeem Khan.
"We've been working on product for a long time, so the brand's come a long way, and it's taken a while to refine fit and styling and we just felt like everything had come together," Liz Munoz, the senior vice president of product and design at Torrid, said in an interview before the show. "We didn't want to do that thing where people are like, 'Oh, I wanna do runway,' but then they're just not ready and they don't do it right."
The models who walked down the runway looked luxe and undeniably cool, wearing ornate and elevated Torrid pieces featuring embroidery and hand-painted flowers, all with that edgy Torrid vibe.
"The embroidered pieces, the hand-painted jackets that you see, are really special, elevated pieces that we thought were so special for this customer, who often doesn't get really special things," Munoz said.
Celebrities like Shannon Purser, who played Barb on Stranger Things, and Britney Young from Glow dotted the front row, amid a bevy of plus-size bloggers.
"People are always like, 'God, what does a plus-size girl wanna wear?' and my rap is always like, 'Guys, you know what I wanna wear? What everyone else is wearing,'" Munoz said. "It's not complicated, so to me our intent is not to show plus-size fashion, but a collection we would do for anybody."
That's been the same kind of thinking for a lot of the inclusive shows at NYFW thus far, from Addition Elle to Christian Siriano to Dia&Co. It's just like any other show, with clothes that are appealing and ready to set a trend. The models' sizes really are the only thing that's different.
"It's the ultimate statement of 'we've arrived,'" Munoz said of the show. "It's just another girl, in another dress, trying to look as beautiful as she can and not much more than that."