Here are 4 times Congress has introduced legislation specifically to rein in Trump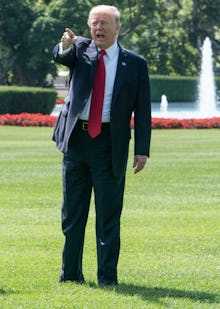 Sens. Kirsten Gillibrand (D-N.Y.) and Susan Collins (R-Maine) introduced an amendment Monday to prevent military personnel from being discharged based on their gender identity, challenging President Donald Trump's controversial transgender ban.
The amendment, which the senators will try to pass this week with the National Defense Authorization Act, would allow transgender individuals to continue openly serving in the military, as they have done since June 2016.
"Any individual who wants to join our military and meets the standards should be allowed to serve, period," Gillibrand said in a statement. "Gender identity should have nothing to do with it."
The bipartisan move is the latest measure Congress has put forth in an effort to rein in Trump. Here are other occasions lawmakers have moved to save Trump from himself.
Democrats challenge Trump's travel ban
Shortly after taking office in January, Trump signed an executive order blocking immigrants from seven majority-Muslim countries from entering the United States, along with a 120 moratorium on refugees coming into the country.
Amid widespread protests against the ban, Democratic senators introduced legislation seeking to repeal the measure and to limit the president's authority under the Immigration and Nationality Act.
"President Trump's Muslim ban is unnecessary, it's unconstitutional and it's un-American — and it should be repealed immediately," Sen. Dianne Feinstein (D-Calif.) said on the Senate floor.
Senate Minority Leader Chuck Schumer (D-N.Y.) attempted to bring the legislation to debate Jan. 30, but was blocked by Sen. Tom Cotton (R-Ark.), who insisted that Trump's executive order did not amount to a "ban."
"It is simply a temporary pause for three to four months to evaluate whether Obama administration policies are strong enough to keep this country safe," Cotton said.
The ban and a revised version of it were each blocked by the courts, but a partial version of it was allowed to go into effect in late June.
Graham, Booker move to protect Mueller
In an explosive interview with the New York Times in July, Trump left the door open to the possibility of firing Robert Mueller — the special counsel who has been overseeing the Russia investigation since Trump fired former FBI director James Comey.
Soon after, Sens. Lindsey Graham (R-S.C.) and Cory Booker (D-N.J.) introduced legislation that would prohibit Trump from terminating the special counsel without judicial oversight.
"I'm gonna create a statute that would say any time a special counsel is impaneled to investigate the president or their team, a dismissal has to be reviewed by the courts," Graham said in July. "That's what we did in the 1990s as a check and balance, not just against this president, but against all future presidents."
Trump had suggested to the Times that he believes Mueller would be crossing a "red line" if he were to look into his or his family's finances — something the special counsel seemed to have already included in his probe.
But according to Graham, Trump "cannot draw a red line as to what the special counsel might do."
"That's inappropriate," Graham said. "The idea that he would be dismissed while investigating the president and his team is unacceptable."
The Graham-Booker proposal was one of two pieces of bipartisan legislation introduced to reign in Trump's ability to oust Mueller. The other, by Sens. Thom Tillis (R-N.C.) and Christopher Coons (D-Del.), would allow the special counsel to contest the termination. Both bills have been referred to the Judiciary Committee.
Senate Republicans counter Trump on border wall
A wall along the southern border of the U.S. — one that Mexico would for some reason fund itself — was one of Trump's central campaign promises. And the transcript of a phone conversation between Trump and Mexican President Enrique Peña Nieto suggests even he knew was unrealistic.
But Trump's plan for a "great, great wall" stretching across the entire border U.S.-Mexico border hit a snag from his own party in August when Sen. John Cornyn (R-Texas) introduced a border bill that would not fund it.
While the bill would fund some barriers, it was presented as a rebuke to the "one-size-fits-all" approach Trump has pushed on border security, according to the Washington Post.
"Border security is not a one-size-fits-all proposition," Cornyn told reporters in August. "We need an approach that will work at each unique place along the U.S.-Mexico border."
Cornyn's bill was placed on the Senate's legislative agenda in September.
Gillibrand, Collins hit Trump on transgender ban
Trump in July announced via Twitter that he planned to ban transgender individuals from serving in the military.
The next month, he issued a memorandum to the Pentagon, instructing the military to prohibit transgender people from enlisting, writing that the Obama administration "failed to identify a significant basis to conclude that terminating the department's long standing policy and practice would not hinder military effectiveness and lethality, disrupt unit cohesion, or tax military resources."
According to Gillibrand and Collins, their amendment would signal Congress's support for transgender military personnel, allow transgender individuals to continue serving and enlisting in the military and require Secretary of Defense James Mattis to continue his review of the military's transgender policy.
"Our armed forces should welcome the service of any qualified individual who is willing and capable of serving our country," Collins said in a statement. "If individuals are willing to put on the uniform of our country, be deployed in war zones, and risk their lives for our freedoms, then we should be expressing our gratitude to them, not trying to exclude them from military service."