What Melania Trump wore her 34th week as first lady —  from Calvin Klein to Monique Lhuillier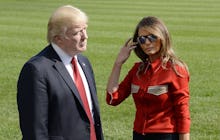 At this point in her stint as first lady, Melania Trump is clearly experimenting with what she wears.
One day she dresses as expected, in shift dresses and coat dresses, and the next she wears an edgy, Western-inspired cowboy shirt from Calvin Klein or a sparkly silver dress from Monique Lhuillier. You just never really know what you're gonna get, and that is, at the very least, much more fun to watch than the predictable.
This is what Trump wore this week.
Friday, Sept. 8: A gray dress with a ruffle on her way to Camp David
For the momentous occasion of leaving the White House on Friday (after we published our last weekly fashion roundup), Trump opted for a gray shift dress, with a ruffle across the front, by a designer we haven't been able to identify.
She paired the look with leopard-print pumps.
Sunday, Sept. 10: A Western-inspired Calvin Klein shirt as she returns to the White House
In a subtle style departure, Trump arrived back at the White House the next day in a Western-style shirt from Calvin Klein. It's a long way from her tendency to gravitate toward either classy or preppy, like her gingham tops.
She did keep it typically Trumpian for the rest of her outfit, with a Birkin bag, Yves Saint Laurent mirrored sunglasses and Louboutin flats.
Monday, Sept. 11: A black Michael Kors coat for 9/11 services
For a moment of silence in remembrance of 9/11, Trump wore one of her favorites: a coat as a dress. This time it was a black jacquard Michael Kors coat and black Manolos to match.
Thursday, Sept. 14: A fancy-to-casual transformation for a trip to Florida
Trump's fancy outfit to merely ride in a plane and visit hurricane damage strikes again. This time, it is much more subdued, as she wore Chanel flats and a Ralph Lauren jacket over cream pants, and carried an Hermès Birkin bag, as she left the White House on her way to Florida.
Onboard Air Force One, she changed into a much more casual look consisting of an olive green button-down blouse, white Converse sneakers and a white baseball cap.
It seems baseball caps have become Trump's go-to headwear for visiting hurricane damage, with her notably wearing one that read "FLOTUS" to Texas the first time, and one that read "TEXAS" for her second trip to the state.
Thursday, Sept. 14: A glittery Monique gown for a reception for the White House Historical Association
At the end of this action-packed day, Trump attended a reception at the White House for the White House Historical Association and wore a glittery silver gown by Monique Lhuillier, a designer she has worn on many occassions before, including a gala at Ford's Theatre in Washington and a rally.
Friday, Sept. 15: A muted look as she leaves the White House for the weekend
Sticking to her love of neutrals again, Trump wore khaki pants, an olive green jacket with that cinched waist and snakeskin Manolo Blahnik shoes (which she has worn before) as she departed the White House on Friday.
This was a week where Trump balanced sticking to her favorite styles, like the olive green color and coats worn as dresses, and took some risks too, like the bold CK look.
You can see previous recaps of what Melania Trump wore here.