The UK has issues with Fox News. That means trouble for Murdoch's attempt to buy Sky TV.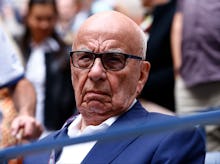 Fox News' parent company suffered a setback to its U.K. business prospects Tuesday after the U.K.'s culture secretary has indicated an additional review will delay its $15 billion proposal to acquire British broadcaster Sky.
U.K. culture secretary Karen Bradley said in a statement Tuesday that she is prepared to recommend a six-month review of the proposed tie-up instead of moving the deal forward, citing concerns about whether the company would comply with U.K. broadcasting standards and whether the acquisition would give the Murdoch family too much control over U.K. media.
In supporting documentation, the British regulatory body Ofcom wrote that 21st Century Fox did not have in place procedures to ensure that Fox News would comply with U.K. broadcasting standards until the regulatory body raised concerns.
"We are concerned that Fox did not have adequate compliance procedures in place for the broadcast of Fox News in the U.K. and only took action to improve its approach to compliance after we expressed our concerns," the document read.
21st Century Fox in August said it would no longer air Fox News in the U.K., which CNN reported "could help insulate 21st Century Fox from criticism" as Ofcom continued to consider its takeover bid. At the time, a spokesperson for 21st Century Fox told Mic in a statement that the decision to stop broadcasting Fox News in the U.K. was due to a lack of viewership.
Tuesday's statement that Bradley intends to recommend a further review is in line with what she had signaled she would do in June. She said in the statement that additional information presented to her had not changed her mind.
Bradley has given both parties 10 business days to respond before she makes her final decision, as is required by law.
In a statement, 21st Century Fox said it was "disappointed" by Bradley's indication that she planned to recommend a review.
"We are surprised that after independent regulatory scrutiny and advice, and over four months to examine the case, the secretary of state is still unable to form an opinion," the statement read, in part. "We urge the secretary of state to take a final decision quickly."
Bradley's statement is a setback for media mogul Rupert Murdoch and his family, who are making a second attempt to acquire Sky, of which it already owns 39%.
Some lawyers and activists have attempted to persuade Ofcom not to approve the deal, appearing before the regulatory body to testify about recent sexual harassment and racial discrimination lawsuits and arguing that those cases are evidence that 21st Century Fox is not a "fit and proper" owner of Sky.
Ofcom has criticized the company for its handling of the various scandals, saying some of them represent a "corporate failure," but has said there is not enough evidence to show senior Fox management knew about the alleged misconduct or that they did not act accordingly after they did find out.
Ofcom has said it reserves the right to continue reviewing any additional evidence in its ongoing consideration of whether 21st Century Fox meets the "fit and proper" standard.