3 takeaways from Trump's election integrity panel hearing in New Hampshire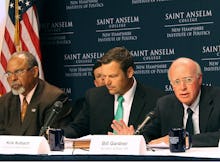 The commission investigating President Donald Trump's still-unsubstantiated claim that "millions" voted illegally in the 2016 presidential election convened for the second time Tuesday, with Kansas Secretary of State Kris Kobach defending his recent controversial Breitbart column alleging widespread voter fraud in New Hampshire.
In his column, Kobach, vice chair of the commission, cited statistics that claimed "6,540 same-day registrants ... registered to vote in New Hampshire using an out-of-state driver's license to prove their identity" and that 5,526 individuals never got a driver's license in the state. The Trump ally suggested this was evidence that "they never were bona fide residents of the state" and, therefore, voted illegally.
"It has long been reported, anecdotally, that out-of-staters take advantage of New Hampshire's same-day registration and head to the Granite State to cast fraudulent votes," Kobach wrote Thursday. "Now there's proof."
Not so, according to fact-checkers. The thousands of so-called "fraudulent" votes Kobach referenced simply may have been college students or new residents of the state casting perfectly legal ballots, FactCheck.org's Robert Farley wrote. As New Hampshire Public Radio found in February, the towns with the highest numbers of 2016 votes cast with out-of-state IDs in New Hampshire are all home to college campuses.
Still, Kobach stood by the column during Tuesday's daylong hearing on voter fraud, using his own inconsistencies to justify the panel that critics say exists as a Republican tool of voter suppression.
"This obviously is a subject of concern because there have often been anecdotal reports of people driving into New Hampshire because it's a same-day registration state and it's a battleground state," Kobach said. "Until further research is done, we will never know the answer regarding the legitimacy of this particular election."
Here's what else you need to know about Tuesday's voter fraud hearing:
The panel is still trying to justify its existence
Critics have strongly objected to the commission, which was created by Trump in May and is comprised of Kobach and others who have been accused of spearheading voter suppression efforts.
"Donald Trump created this commission because he was humiliated about losing the 2016 popular vote," Dale Ho, director of the American Civil Liberties Union's Voting Rights Project, said in a statement Monday. "Then he tapped Kris Kobach, the king of voter suppression, to lead it. Our election process must be secure, fair and transparent, yet Trump and Kobach are using their sham commission to spread the lie of rampant fraud as a Trojan Horse for voter suppression."
Those concerns took on a new life Tuesday, thanks to a newly released email from the conservative Heritage Foundation to Attorney General Jeff Sessions.
In the email, Heritage claimed Democrats and "mainstream" Republicans would "guarantee [the commission's] failure" and should be excluded from it.
"There isn't a single Democratic official that will do anything other than obstruct any investigation of voter fraud and issue constant public announcements criticizing the commission and what it is doing, making claims that it is engaged in voter suppression," the Heritage Foundation wrote in the email.
The panel attempted to defend its own existence Tuesday, with New Hampshire Secretary of State Bill Gardner — one of the commission's five Democratic members — saying it was his "civic duty" to examine the potential fraud.
"In order to live free, we must have a stable election process to keep the confidence of our citizens," Gardner said. "This is, in a nutshell, why this commission was established."
Concerns about the commission's motivations still linger
Still, critics' concerns about the commission aren't likely to be assuaged by a number of suspect claims that were floated at Tuesday's panel.
For example, in addition to Kobach's repeated claim of extensive New Hampshire voter fraud, former Rhode Island gubernatorial candidate Ken Block said his own research found "approximately 8,500 pairs of duplicate votes among 21 states."
The study, backed by the Steve Bannon-founded Government Accountability Institute, which is chaired by influential GOP donor Rebekah Mercer, has been criticized by Democratic Party officials in Block's home state of Rhode Island as being "right out of the Trump playbook."
The panel has a credibility problem
Perhaps the most head-turning presentation the panel heard throughout the day came from John Lott, a gun rights advocate who seemed to suggest — perhaps ironically — to the panel that Americans be subject to background checks in order to cast ballots.
"Democrats have long been concerned about voter suppression but they've also long lauded the background check system on guns, saying it's simple, accurate, in complete harmony with the right[s] of people to go and defend themselves," Lott said. "If they don't believe that it suppresses people's ability to defend themselves, would we believe that using this system would suppress being able to go and vote?"
During his bizarre statement he falsely claimed that separate laws governing voting and gun ownership were similar, saying "it's the same things that disqualify you from owning a gun that disqualify you from voting."
Rep. Elijah Cummings (D-Md.) blasted Lott's presentation on Twitter, writing that voting is "a right, not a crime" and calling the entire panel a "sham."