Edith Windsor, gay rights pioneer and activist, dead at 88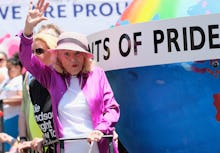 Edith Windsor — the gay rights activist whose landmark lawsuit helped pave the way toward legalizing same-sex marriage nationwide in the United States — died in New York City on Tuesday, her wife confirmed. She was 88 years old.
In 2013, the Supreme Court ruled in Windsor's favor to strike down the Defense of Marriage Act in a historic move that secured federal recognition and benefits for married same-sex couples for the first time. While that decision was limited to 13 states and the District of Columbia, the court eventually ruled in 2015 to allow same-sex couples the ability to marry and receive those benefits anywhere in the United States.
The year after the landmark 2015 ruling, Windsor married Judith Kasen-Windsor — a banking executive she had met at a gay rights event the year prior.
"I'm thrilled, I'm absolutely thrilled," she reportedly told the New Yorker on the day of the nationwide ruling, as revelers crowded her apartment.
"I think it's only the next major step," she added. "We have a history: beginning to see each other with Stonewall, when a whole new community began to recognize itself; the AIDS crisis — we'd always been separated. Gays and lesbians, separated!"