After the controversial L'Oréal firing, Munroe Bergdorf lands another beauty campaign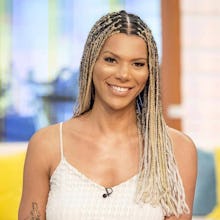 That didn't take long. Less than two weeks after L'Oréal U.K. fired Munroe Bergdorf because of a post she wrote denouncing white supremacy, the DJ, activist and model got herself another beauty campaign. This time, it's for the brand Illamasqua, which in the past has taken hard stances against things like the Trump administration, fascism and discrimination.
"Munroe embodies diversity and individuality; she is not scared to be truly herself," an Illamasqua spokesperson said in an email. "But Munroe doesn't just stop there. She speaks out about the issues that affect not just her but the rest of our generation, seeking to improve the society we live in. That is what makes her a true Illamasqua Ambassador."
Bergdorf announced the news on Tuesday via her Instagram, posting a picture of herself getting done up in a makeup chair with the caption "Excited to announce that I'm one of the faces of the next Illamasqua campaign."
The news comes amidst a flurry of support for Bergdorf, from models to makeup bloggers, and even the hashtag #IStandWithMunroe.
It was just in February that Illamasqua, which regularly hires a diverse group of models including women who wear hijabs, issued an anti-fascism pledge for all its customers, trying to ensure that no one who supports fascism bought any of its products.
"We're realistic. We know we can't stop anyone buying our products," Julian Kynaston, the founder of Illamasqua, wrote in the letter. "But we also know that no matter how hard some people work to make themselves beautiful on the outside, makeup can never hide the ugliness inside. So please, if you don't agree with the above DON'T BUY US. Prejudice, sexism and racism should never be tolerated. Whether you're a brand or an individual, join us and, together, we can be the change we want to see."
That same month, the brand sponsored London's first-ever Modest Fashion Week.
It looks like Bergdorf, who appears in the campaign alongside genderfluid model Rain Dove, has found a good place to land.