Hurricane Harvey another "crushing burden" for Houston's poorest and most vulnerable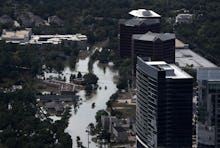 Two weeks after Hurricane Harvey brought massive flooding to the Houston area, displaced thousands of Texans and caused billions of dollars in damages, the city and its neighbors are beginning the long, slow recovery process.
Harvey displaced as many as 1 million people in Texas — including at least 200 residents of public housing in Houston, many of whom were already struggling to hold on to stability.
Now the Houston Housing Authority, the housing agency that serves the city, has the monumental task of not only repairing some hundreds of damaged units but also tracking down residents of public housing who have been displaced.
"These residents were already struggling to become economically self-sufficient, so Hurricane Harvey creates another crushing burden," HHA president and CEO Tory Gunsolley said in an email Tuesday. "We are heartbroken for the damage and impact that this has caused for many of our residents."
The HHA provides services to some 58,000 low-income residents of Houston, Gunsolley said. Of that number, 5,700 are residents of 25 public housing and tax credit developments around the city. The HHA also has special programs for homeless veterans and low-income seniors.
As of Tuesday, around 200 public housing residents had been displaced, and approximately 600 public housing units had been damaged. But Gunsolley cautioned that "these numbers are subject to change" as the agency works to take accurate stock of the damage to its buildings.
Gunsolley said HHA staff was stationed at the busiest shelters in the city, the George R. Brown Convention Center and the NRG Center, working to find HHA residents. Some, he said, have already been relocated "to hotels and vacant HHA units."
Some of the 600 units in HHA buildings that were damaged by flooding saw 4 feet to 4 feet of floodwater. "We are taking all possible actions to help resolve our residents' displacement issues," Gunsolley said, adding that "our top priority is ensuring everyone is safe and taken care of."
However, some residents of HHA buildings have returned home to damaged units and ruined possessions — and say they have nowhere else to go.
Hurricanes have, historically, been most damaging for vulnerable populations. In 2015, Brookings Institution senior fellow Elizabeth Ferris wrote in a blog post that, "on all regions of the world, those who are poor and marginalized often suffer disproportionately from the effects of disasters."
As the Atlantic reported, low-income victims of natural disasters may lack the funds to pay out of pocket for emergency essentials, or might be permanently displaced from their own city because of rising housing costs in a post-disaster rebuild, as was the case with some victims of Katrina.
Harvey is proving to be no different. As the Texas Tribune reported in August, communities like Houston's Fifth Ward, predominately black and low income, have been hit hard by Harvey, leaving many people, public housing residents included, stuck with no financial safety net.
The Clayton Homes, an HHA housing complex that Gunsolley said was damaged by Harvey, lies between a highway and the Buffalo Bayou, which "jumped its banks" during the storm and flooded homes, the Associated Press reported earlier in September.
Clayton Homes residents Laquinna Russell and Antonio Washington, who have three children, spent one night in a hotel room before coming back to their home. They cleaned the floors with bleach, they told the Associated Press, but have all been sleeping on the second floor because of fears about mold.
Their couch, television, two cars and new school supplies were all ruined, the AP reported. Russell said they tried to find a nearby hotel room but couldn't, and they still have to pay rent on their two-story unit.
Gunsolley urged all residents of the HHA's public housing developments who have been affected by the storm to register for FEMA assistance and to reach out to the HHA online or over the phone to update their status. However this too may be difficult for people who lost everything in the hurricane.
Morris Mack told the AP he was a resident of a public housing development in northwest Houston, but he hadn't been able to return after the storm at the time that he spoke with the AP.
His cell phone was ruined by flooding and he didn't have an email address, the AP reported. He told the AP that he was waiting for government offices to reopen so he could get assistance that would allow him to get a cell phone in order to reach FEMA.
"I've gotten to a point where it is what it is," he told the AP. "There's nothing I can do about it. Just trust in God."